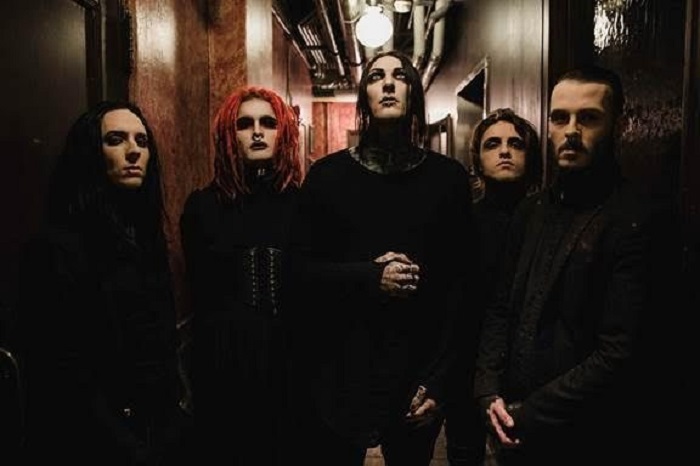 Motionless in White don't stop sharing tracks from their upcoming album, Graveyard Shift
May 1, 2017
Just five days prior to the album release, Motionless In White are sharing another new track 'Rats.' The song was premiered on BBC Radio 1's Rock Show With Daniel P Carter. Give it a listen below.
Motionless In White's long-awaited studio record, Graveyard Shift, comes out on May 5. 'Rats' is already the fourth single off the album.
More: Watch MOTIONLESS IN WHITE play 'Eternally Yours' first time live
The band's previous studio effort, Reincarnate, was released three years ago, back in 2014, so we couldn't be more excited to hear the new material. To make it a killer album, Motionless In White also called Korn singer Jonathan Davis, who gladly recorded guest vocals for Graveyard Shift.
If you are wondering what the band is up to these days, Motionless In White are currently on the road with In This Moment, finishing the first tour leg. They will jump the second leg of the tour on June 19, with the dates booked for two months, till August 5. Check out all the tour dates below.
Listen to 'Rats' below. Do you like the new single of Chris Motionless and co.? Be the first one to leave your comments and stay tuned with AlteRock Facebook and Twitter to never miss on the news about your favorite alternative music!
Watch: Chris Motionless turns into an evil clown + Miss Motionless makeup tutorial

Motionless In White 2017 Tour dates:
5/2: Birmingham, Alabama @ Iron City
5/3: Cincinnati, Ohio @ Bogart's
5/5: Nashville, Tennessee @ War Memorial Auditorium
06/19 — Mt. Pleasant, MI @ Soaring Eagle Casino (with Avenged Sevenfold)
06/20 — Peoria, IL @ Limelight*
06/23 — El Paso, TX @ Streetfest (with Papa Roach)
06/27 — Oklahoma City, OK @ Diamond Ballroom *
06/28 — St. Louis, MO @ The Pageant
07/01 — N. Myrtle Beach, SC @ House Of Blues
07/02 — Norfolk, VA @ The Norva
07/03 — Lancaster, PA @ Freedom Hall *
07/05 — Portland, ME @ State Theatre
07/07 — Asbury Park, NJ @ Asbury Park Convention Hall
07/11 — Rockford, IL @ Coronado Theatre
07/12 — Cedar Rapids, IA @ McGrath Amphitheater
07/14 — Mansfield, OH @ Ink In The Clink
07/15 — Inwood, WV @ Shiley Acres Farm
07/19 — Little Rock, AR @ Metroplex
07/21 — Corpus Christi, TX @ Concrete Street Amphitheatre
07/22 — Dallas, TX @ South Side Ballroom
07/23 — Midland, TX @ La Hacienda Center
07/25 — Wichita, KS @ The Cotillion
07/26 — Des Moines, IA @ 7 Flags Event Center
07/28 — Madison, WI @ Orpheum Theater
07/29 — Rochester, MN @ Mayo Civic Auditorium
07/30 — Fargo, ND @ Fargo Civic Auditorium
08/01 — Bismarck, ND @ Bismarck Event Center
08/03 — Billings, MT @ Shrine Auditorium
08/04 — Sturgis, SD @ Ironhorse Saloon
08/05 — Lincoln, NE @ Centennial Mall & M Street
* with VIMIC, Little Miss Nasty