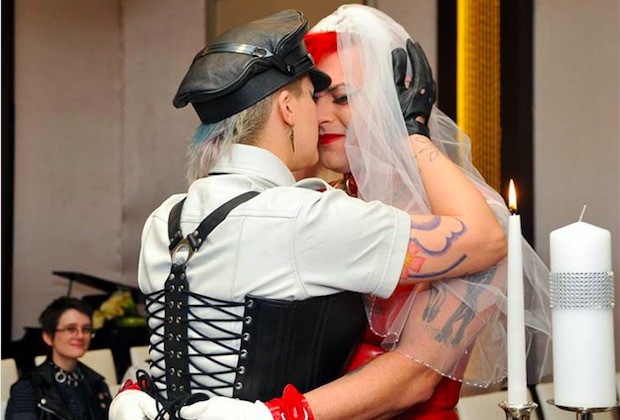 The BDSM-themed Vegas wedding ceremony of Fat Mike and Soma Snakeoil clearly showed who will wear the trousers in the family
January 7, 2016
New Year certainly starts in a fun way. According to a report from TMZ, the frontman of NOFX, Fat Mike, and his girlfriend, adult film actress Soma Snakeoil, secretly got married in Las Vegas on New Year's Eve.
Soma, known as a dominatrix and a «sex anarchist», clearly showed her husband and the guests, who will wear the trousers in their family. Literally. In the photos from the wedding you can see who was actually the bride here and who took on the groom's role. The couple came up with a plan to dress up as the opposite genders. The whole wedding planning kicked off just a week before the actual ceremony.
Among the guests at the wedding was Matt Skiba from Blink 182 and Alkaline Trio, who was Mike's best man and «bridesman.» Only eight people were invited to the ceremony in total. The dress code of the event was not surprising for those who know the couple's fetish preferences and enthusiasm for BDSM: lots of black and as much leather as possible.
Fat Mike and Soma Snakeoil were engaged for over a year, while their relationship already lasts for six years. Mike announced his engagement to Soma on January 28, 2014. For the wedding ceremony the bride and the groom reportedly wrote their own vows, with Mike promising Soma to be her «10,000 night stand», TMZ source reveals.
What do you think of the couple's idea to dress up as the opposite genders and the whole wedding ceremony? Share your thoughts in the comments, and join Alterock Facebook and Twitter to always be in the know about your favorite rock bands!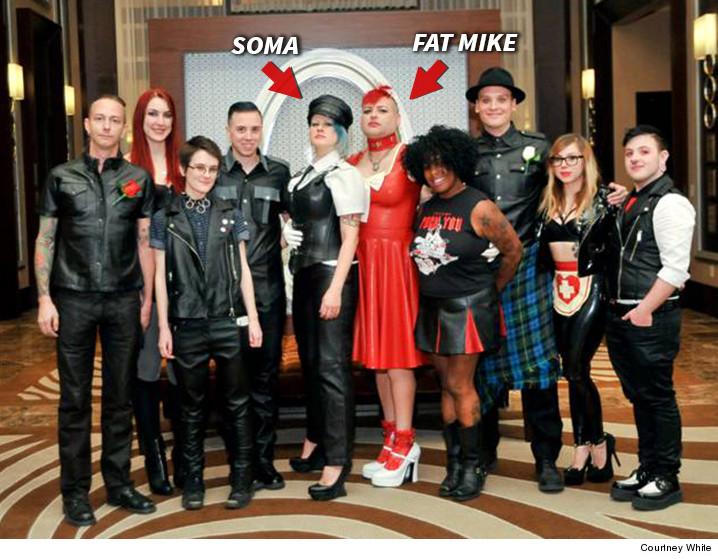 Photos via TMZ/Courtney White
[schema type=»review» url=»http://alterock.net/nofxs-fat-mike-got-married/» name=»NOFX's Fat Mike Got Married… Except He Was The Bride» description=»The BDSM-themed Vegas wedding ceremony of Fat Mike and Soma Snakeoil clearly showed who will wear the trousers in the family.» rev_body=»According to a report from TMZ, the frontman of NOFX, Fat Mike, and his girlfriend, adult film actress Soma Snakeoil, secretly got married in Las Vegas on New Year's Eve.» author=»Tatiana Vinichenko» pubdate=»2016-01-15″ user_review=»5″ min_review=»1″ max_review=»5″ ]