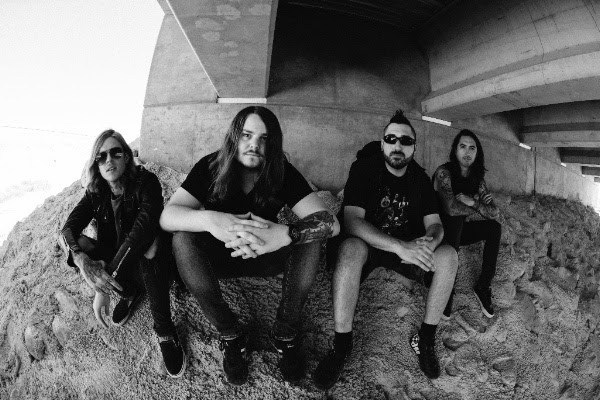 The band will soon hit the road with Blessthefall, Cane Hill and Fire From the Gods
November 27, 2017
Of Mice & Men's fans, get ecstatic, because your favorite band will make your day today with their title track 'Defy' from the upcoming new album. «To defy means to challenge the power of; resist boldly or openly. 'Defy' is all about digging your heels in and being defiant towards feelings of hopelessness and defining yourself in the process,» explains bassist/vocalist Aaron Pauley. Watch the lyric video for the powerful, anthemic new song below.
The band's new album will be released in just over two months, and the band promises we'll feel their return to the raw, aggressive sound they've started with: «For us, this new album encapsulates and showcases our desire to return to an aggressive, live-oriented sound,» the new frontman says (via Alternative Press).
Defy is the album of special importance for Of Mice & Men, as it's their first without the core member and frontman Austin Carlile. His place in front of the mic was taken by the band's own bassist, Aaron Pauley. The previous singer, Carlile, had no choice but to exit the group at the end of 2016, diagnosed with the tears in his spine stopping him from using screams ever again.
The ex-singer, however, has always been supportive of his act's further steps without him, and complemented them on their first new single, 'Unbreakable,' since his departure. Carlile underlines he is proud of the group rocking on without him (via Loudwire).
While on tour this year and in the recording process the band members have become much tighter as musicians and friends. «From a perspective of where we're at, we're just very well-connected,» the band told AltPress. «I feel like every day we spend making music together, we just become tighter as a unit and tighter as friends. But it's been awesome to see how the creative process changes because of that. We're just able to create things more symbiotically, and it becomes less work and more adventure».
Listen: Of Mice & Men release 'Unbreakable,' first track without Austin Carlile
With the new forthcoming record a new tour chapter in the band's life opens. Of Mice & Men will embark on a headlining North American tour February 1, hitting 30 venues along with Blessthefall, Cane Hill and Fire From the Gods.
The new album, Defy, will be out January 19 through Rise Records. Check out the official tracklisting below.
Tracklisting:
1. Defy
2. Instincts
3. Back to Me
4. Sunflower
5. Unbreakable
6. Vertigo
7. Money
8. How Will You Live
9. On The Inside
10. Warzone
11. Forever YDG'n
12. If We Were Ghosts
Be the first to leave your comments and stay tuned with AlteRock Facebook and Twitter to never miss on the news about your favorite alternative music!
Of Mice & Men 2018 North American Tour Dates:
Feb. 01 — Santa Cruz, Calif. @ Catalyst*
Feb. 02 — Portland, Ore. @ Wonder Ballroom*
Feb. 03 — Seattle, Wash. @ El Corazon*
Feb. 04 — Boise, Idaho @ Knitting Factory*
Feb. 05 — Salt Lake City, Utah @ Complex*
Feb. 06 — Denver, Colo. @ Summit Music Hall*
Feb. 08 — Minneapolis, Minn. @ Music Hall MPLS*
Feb. 09 — St. Louis, Mo. @ Ready Room
Feb. 11 — Chicago, Ill. @ House of Blues
Feb. 12 — Detroit, Mich. @ Crofoot
Feb. 13 — Toronto, Ontario @ Opera House
Feb. 14 — Montreal, Quebec @ Corona Theatre
Feb. 16 — Boston, Mass. @ Paradise Rock Club
Feb. 17 — New York City, N.Y. @ Gramercy Theatre
Feb. 18 — Asbury Park, N.J. @ Stone Pony
Feb. 19 — Philadelphia, Penn. @ Trocadero
Feb. 20 — Charlotte, N.C. @ Underground
Feb. 21 — Atlanta, Ga. @ Masquerade Heaven
Feb. 23 — Orlando, Fla. @ Beacham
Feb. 24 — Destin, Fla. @ Club L.A.
Feb. 25 — New Orleans, La. @ House of Blues
Feb. 27 — Houston, Texas @ White Oak
Feb. 28 — Dallas, Texas @ Canton Hall
March 01 — Albuquerque, N.M. @ Sunshine
March 04 — Vegas, Nev. @ Vinyl @ Hard Rock Live
March 05 — Flagstaff, Ariz. @ Orpheum
March 06 — Phoenix, Ariz. @ Nile Theatre
March 07 — San Diego, Calif. @ SOMA
*No Cane Hill