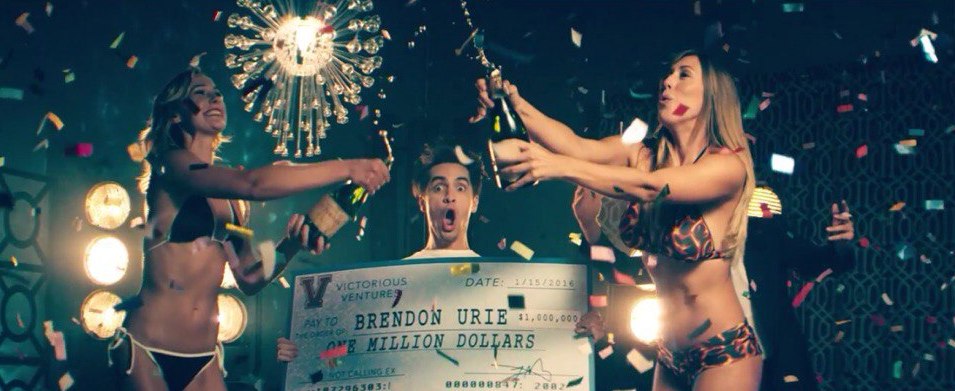 Death Of A Bachelor's No. 1 spot on Billboard 200 is Panic! At The Disco's all-time high in their discography
January 26, 2016
Panic! At The Disco's new album Death Of A Bachelor has broken all the previous band records: first topping iTunes' charts upon its release on Jan 15 and now reaching No. 1 spot on Billboard's 200. Death Of A Bachelor sold 190,000 album units in its first week, plus scored the best first week full album sales — 169,000. For Panic! At The Disco this is the first time they've hit No. 1 on the Billboard 200.
More: Watch PANIC! AT THE DISCO Rock New Year's Eve on NBC With 'Victorious'
The band's second record, Pretty. Odd, gathered them 139,000 in the first week and went up to No. 2 chart position, followed by their later albums A Fever You Can't Sweat Out, Vices & Virtues and Too Weird To Live, Too Rare To Die! peaking at No. 13, No. 7 peak and No. 2, respectively.
Also, last November, Panic! At The Disco's debut record, 2005′ A Fever You Can't Sweat Out, earned double platinum status, meaning it has sold at least 2,000,000 copies over the past 10 years. The album stayed for 66 weeks on Billboard 200.
Check out Brendon Urie's video message to the fans regarding the band's No. 1 spot with Death Of A Bachelor below. Share your thoughts in the comments, and join Alterock Facebook and Twitter to always be in the know about your favorite rock bands!
[schema type=»review» url=»http://alterock.net/panic-at-the-disco-billboard/» name=»PANIC! AT THE DISCO New Album Hits No. 1 on Billboard» description=»Death Of A Bachelor's No. 1 spot on Billboard 200 is Panic! At The Disco's all-time high in their discography» rev_body=»Panic! At The Disco's new album Death Of A Bachelor has broken all the previous band records: first topping iTunes' charts upon its release on Jan 15 and now reaching No. 1 spot on Billboard's 200. » author=»Tatiana Vinichenko» pubdate=»2016-02-03″ user_review=»5″ min_review=»1″ max_review=»5″ ]