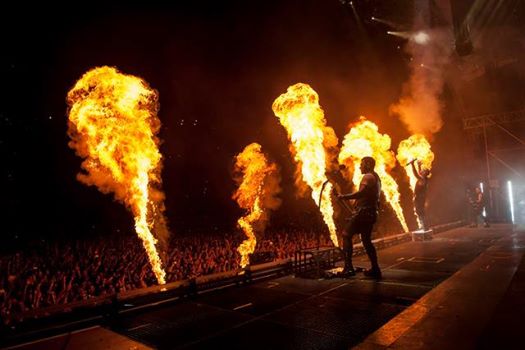 The venues the band announced for summer 2017 seem to be unable to fit all who wish to attend
December 5, 2016
Rammstein's European fans have obviously been waiting for so long to catch the band live in their country or the country nearby that the response to their recently announced festival shows for summer 2017 has turned out to be overwhelming. As a result, the stretch of dates had to be extended to fit all the fans hoping to catch the band live next summer.
The dates added today are two extra shows in Prague, Czech Republic and Nîmes, France:
05/29 Prague, CZE – Eden Arena
06/12 Nîmes, FR — Arènes de Nîmes
A couple of the 2017 tour locations will be visited by the industrial metal band for the first time ever. Rammstein's full summer itinerary now looks like this:
05/20 Kópavogur, ICE – Korinn
05/25 Horsens, DEN – State Prison
05/28 Prague, CZE – Eden Arena
05/29 Prague, CZE – Eden Arena
06/02-04 Mendig, GER – Rock am Ring
06/02-04 Nuremberg, GER – Rock im Park
06/11 Tallinn, EST – Tallinn Rockfest
06/12 Nîmes, FR — Arènes de Nîmes
06/16 Dessel, BEL – Graspop Metal Meeting
07/11 Nimes, FRA – Festival De Nimes
Till Lindemann has also recently announced that the new album is currently in the works. The release is approximately expected to be out in fall 2017.
In case you've missed: Watch RAMMSTEIN's Music Video 'Ich Tu Dir Weh' From New DVD 'In Amerika'
Are you coming to any of the band's European shows? Which one? Where will you be travelling from? Be the first to leave your comments and stay tuned with AlteRock Facebook and Twitter to never miss on the news about your favorite alternative music!
Photo credit: Matthias Matthies