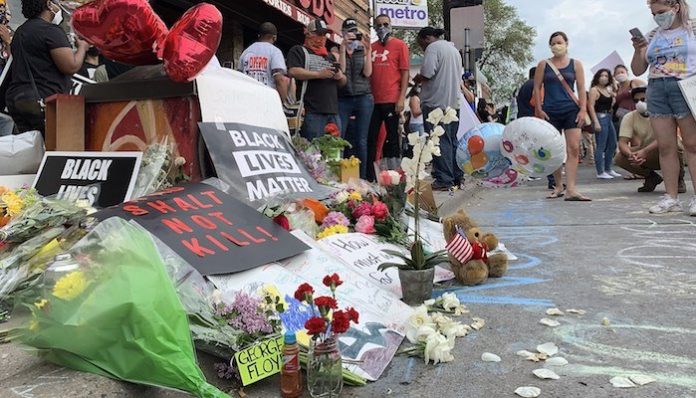 Spotify has shown solidarity with Black Lives Matter movement by launching tribute on Blackout Tuesday
As musicians and people of all walks of life are raising their voices for the Black Lives Matter movement (now abbreviated BLM), Spotify has taken part in Blackout Tuesday this week. The team behind the digital platform expressed their support in various ways from blacking out pages to now a special tribute playlist in memory of George Floyd.
There is only one track in the tribute playlist, but Spotify knew how to demonstrate their expression of solidarity. The streaming service put up a silent track, which is 8 minutes and 46 seconds long, pointing at the length of time Minneapolis police officer held his knee down on Floyd's neck causing his death of asphyxation. The autopsy report reads "asphyxiation from sustained pressure".
More: The Used share sweet, inspiring music video for 'The Lighthouse' with frontline workers
Media and government are currently overwhelmed with the amount of protests worldwide, which broke out after the man was killed by Minneapolis police. Thousands of protestors have taken to the streets of the U.S. and beyond, despite COVID-19-related rules of social distancing and self-isolation. And as a megaphone of public opinion, musicians and celebrities have spoken out too, calling for changes in America.
Halsey, YUNGBLUD, Machine Gun Kelly, FEVER 333 and more took part in Black Lives Matter protests this week, reports Alternative Press. Other musicians have been spreading their support online. For example, Set It Off, nothing,nowhere. and Emo Nite hosted livestreams this past weekend and helped raise thousands of dollars for organizations in support of the movement.
Spotify took to Twitter on Blackout Tuesday and stated the following:
"We stand with the Black community. Our employees, our partners, artists and creators – in the fight against racism, injustice and inequity," the tweet reads. "Now is not the time for silence. We will continue to use the power of our platform to amplify Black voices so they are heard."
Here is Spotify's tribute in memory of George Floyd. Don't miss out on the news about your favorite rock bands — join us on AlteRock Facebook and AlteRock Twitter.
[Photo by: Lorie Shaull/Wikimedia Commons]