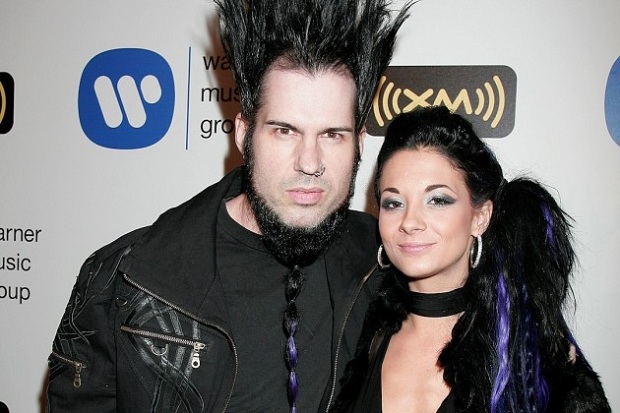 This past Thursday, just over a year after Static-X's frontman Wayne Static died, his widow, Tera Wray Static commited a suicide
January 15, 2016
Tera Wray Static, the widow of Static-X's vocalist Wayne Static, also known as a former adult film star, was found dead of an apparent suicide yesterday night. The tragic news was confirmed by an associate of Wayne Static to Blabbermouth.net. Tera was 33 years old. Tera Wray (born Tera Lents) met Wayne Static during the Ozzfest tour in 2007 while modeling for Hustler lingerie. The couple married in Jan 2008, followed by Wray's exit from adult entertainment industry that summer.
Rik Marin, Tera's friend, published the following message in the comments on Blabbermouth Facebook page: «I spent all day yesterday with Tara [sic]. We had lunch hung out and talked about life without Wayne she show no indication that she was going to take her life. She did talk about fighting the depression for the past 2 years since Wayne had passed..I was shocked when I got the call at 1 am that she had passed.. Instead of hating we should all be happy that Tara had made Wayne so happy he really loved Tera. And put in a track of EVIL DISCO and remember Wayne and the woman he loved…it's really hard for us friends of Wayne n Tera to read these comments..keep Disco EVIL in remembrance of Wayne. I loved you both an will miss are good times at the Dirthouse..»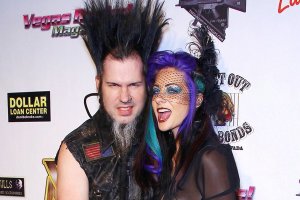 The fact of Static's widow's death was further confirmed and commented upon by the adult entertainment attorney Michael Fattorosi, who worked with Tera for a long time. He tweeted: «I'm so sad today. My client & friend Tera Wray, former Pornstar and the widow of Wayne Static committed suicide yesterday. We were emailing back & forth on Tuesday. And today I got a call from her roommate letting me know what happened. Tera is once again with the love of her life, Wayne, & will be forever. May they both find peace together for all of eternity.»
Fattorosi later told New York Post that Wray left a note asking her roommate to call him and Tera's mother. «She was one of the sweetest, most gentle women I have worked with…» Fattorosi told New York Post's Page Six. «She had a light to her that was evident when she walked into room. She was always smiling and happy. I know she loved Wayne dearly. When they met and got married, she left the [adult film] industry to go on tour with him and the band. From what I understand, she was constantly by his side. His death must have weighed on her tremendously.»
Wayne Static's 2013′ interview to Gotham News revealed that Tera Wray's constant presence on the road with the band to a certain extent contributed to the breakup of Static-X's longtime, established line-up. «Well, I wanted Tera on tour with me, so she was always with me. She was with me during interviews too. We love each other. I wanna have her with me at all times. She came on stage and danced for a few songs and… I think Tony [Campos, then-STATIC-X bassist] didn't like that. I think it pissed him off. I think he thought, 'She's not in the band, she shouldn't be here', Wayne explained in the interview. «The funny thing is, before we got married and she was a porn star, she rode with us on the bus for a whole year, [and] everyone loved her then. When she was a porn star, everything was awesome. Then we got married, and everything changed. I don't know why.»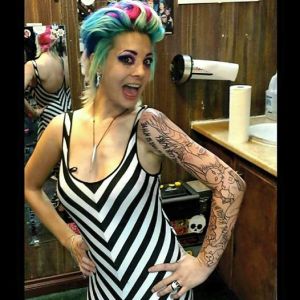 After Wayne's death from alcohol + prescription drugs overdose in November 2014, Tera was bombarded with spiteful messages and comments from many Static-X fans, who blamed her for causing the breakup inside the band and tempting Wayne to dive into a typical sex-drugs-and-rock'n'roll lifestyle that eventually led to his death. Last July, Tera even made a sleeve tattoo as a tribute to her late husband and showed it off on Facebook. Unfortunately for her, the reactions from many of Static-X fans to the post turned out to be even more bitter, as they saw her action as a showoff and not a sign of her true feelings.
Wayne Static died in his sleep in California on November 1, 2014. The official toxicology report released in March 2015 disclosed that the musician took oxycodone prescribed to his wife on top of an unknown amount of alcohol. Wray revealed the coroner that Static «took oxycodone, Xanax and alcohol «to relieve panic attacks» and admitted that he «had a history of cocaine and ecstasy abuse, but they stopped using illicit drugs in 2009.»
You can read Michael Fattorosi's tweets regarding Wray's death below. Our thoughts are with Tera's friends and family.
Read more: Autopsy Report on Wayne Static's Death Revealed (click here)
I'm so sad today. My client & friend Tera Wray, former Pornstar and the widow of Wayne Static committed suicide yesterday.

— Michael Fattorosi (@pornlaw) January 15, 2016
We were emailing back & forth on Tuesday. And today I got a call from her roommate letting me know what happened.

— Michael Fattorosi (@pornlaw) January 15, 2016
Tera is once again with the love of her life, Wayne, & will be forever. May they both find peace together for all of eternity. Godspeed Tera

— Michael Fattorosi (@pornlaw) January 15, 2016