Von Hertzen Brothers team up with staff who worked with AC/DC, Metallica, Aerosmith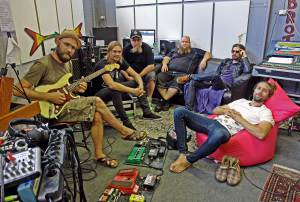 After the 2013 release of the album Nine Lives, which received high grades by music critics, three brothers from Finland are working on their seventh LP, which is expected to appear early next year.
This time  the band is excited more than ever to be working pn the recording with Grammy-nominated Canadian producer Garth 'GGGarth' Richardson (who also did the production for Rage Against The Machine). Garth comments on his teaming up with the Finnish band: "Working with Von Hertzen Brothers is a dream come true. Besides being the coolest people on the planet, they are one of the hardest working bands I know. This is a record that will be on everyone's iPod, phone and turntable. Turn it up loud and get ready to rock. They are going to tear it up!"
The recording will launched in Vancouver, Canada in September in the music studio The Farm, known before as Little Mountain Sound Studio, famous for being the recording base for Aerosmith, AC/DC, Metallica and The Cult.
Mixing will be done by another star name, Canadian Randy Staub, a Juno Awards-winner and a Grammy nominee, who collaborated with such top-level artists as Metallica, Nickelback and Alice In Chains.
Copyright(c) 2014 AlteRock.net. All Rights Reserved.