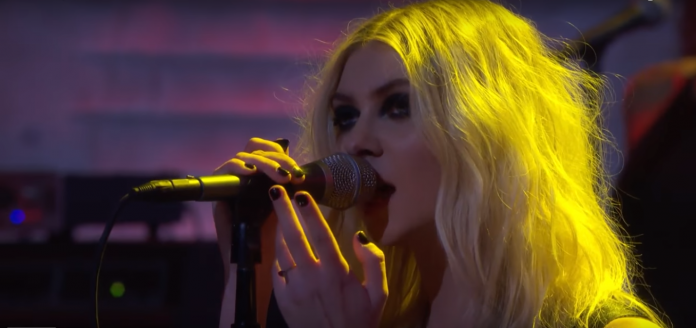 The Pretty Reckless gave a pretty solid rock'n'roll performance on Conan last night
March 1, 2017
New York City post-grunge band The Pretty Reckless, led by the charismatic frontwoman Taylor Momsen, was invited to perform on the late-night American TV show Conan last night. The group used this wonderful chance to play their lead single, 'Take Me Down', from their new record.
The band's third studio album, Who You Selling For, came out in October last year via Razor & Tie. This summer The Pretty Reckless will be playing at the UK's renowned the Reading & Leeds festival. See the list of their 2017 tour dates for this spring/summer below.
Watch the band's performance on Conan along with the original music video for 'Take Me Down' and leave your comments below. Join AlteRock Facebook and Twitter to stay tuned for rock and metal news.
The Pretty Reckless 2017 Tour Dates:
Mar 07 Teatro Positivo Curitiba, Brazil
Mar 09 Vivo Rio Rio De Janeiro, Brazil
Mar 10 Eda Sao Paulo, Brazil
Mar 11 Serraria Souza Pinto Belo Horizonte, Brazil
Mar 14 Teatro Vorterix Buenos Aires, Argentina
Mar 16 Teatro Cariola Santiago, Chile
Mar 18 Vive Latino Festival Mexico City, Mexico
Apr 25 Paradise Rock Club Boston, Ma
Apr 26 9:30 Club Washington, Dc
Apr 27 The National Richmond, Va
Apr 29 Welcome To Rockville Festival Jacksonville, Fl
Apr 30 Fort Rock Festival Fort Myers, Fl
May 02 Soul Kitchen Mobile, Al
May 03 Fox Theatre W/ Soundgarden Atlanta, Ga
May 05 Lunatic Luau Virginia Beach, Va
May 06 Carolina Rebellion Festival Kannapolis, Nc
May 07 Track 29 Chattanooga, Tn
May 10 Farmer's Bureau Ins Lawn W/ Soundgarden Indianapolis, In
May 11 Delmar Hall Saint Louis, Mo
May 12 Rockfest Council Bluffs, Ia
May 13 Northern Invasion Festival Somerset, Wi
May 16 Exposition Gardens – Entertainment Tent Peoria, Il
May 17 Fox Theatre W/ Soundgarden Detroit, Mi
May 19 Starland Ballroom Sayreville, Nj
May 20 Mmrbq 2017 W/ Godsmack Camden, Nj
May 21 Rock On The Range Columbus, Oh
May 24 The Cotillion Ballroom Wichita, Ks
May 26 Rocklahoma Pryor, Ok
May 27 River City Rock Fest San Antonio, Tx
Jul 13 Rock Usa Oshkosh, Wi
Aug 09 Sziget Festival Budapest, Hungary
Aug 15 Frequency Festival St Poelten, Austria
Aug 19 Pukkelpop Kiewit – Hasselt, Belgium
Aug 26 Reading Festival Reading, United Kingdom
Aug 27 Leeds Festival Leeds, United Kingdom