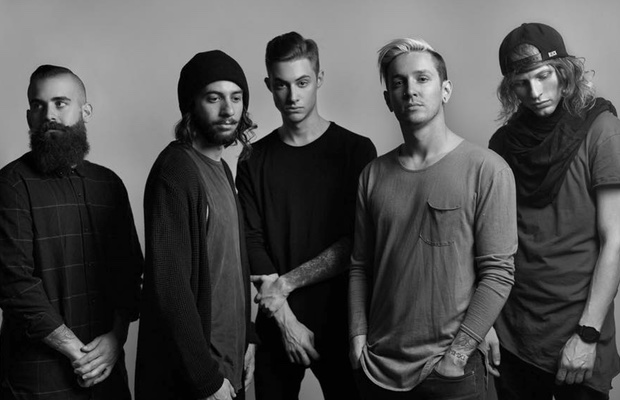 The Word Alive are streaming a powerful new track, 'Trapped', from their upcoming album Dark Matter
January 8, 2016
The Word Alive are streaming a brand new track 'Trapped', which appears on their upcoming full-length Dark Matter, coming out March 18 via Fearless Records. As Altpress states, Dark Matter is one of our most anticipated releases of 2016. The album can be pre-ordered via Apple Music, and if you pre-order the album now, you'll get a bonus, a free download of 'Trapped.' International pre-orders will be available in two weeks, on Jan 22.
Read how The Word Alive's vocalist Tyler "Telle" Smith describes 'Trapped':
     "If you know what it's like to feel confined to your vices or someone who is, you'll feel the intensity of Trapped. Whether your fix is drugs, alcohol, sex or phycological insecurities, we all have something that can hold us back. Trapped is about that feeling, and trying to crawl out of the hole that can be our heads."
The band will hit the road this spring to embark on a North American tour with support from Fit For A King, Out Came the Wolves and a yet to be announced co-headliner. Hopefully, year 2016 will not as dangerous and painful for Telle Smith as the past year, when it comes to touring. On 2015′ Apollo X Tour with Motionless in White and The Devil Wears Prada, in November, during the performance in Pomona, California, The Word Alive's frontman did some stage diving at the show, the consequences of which were multiple broken bones and bruises: Smith broke a rib, fractured another rib, broke a bone in his spine, and bruised a lung.
Surprisingly enough, the band then posted an official statement the following day, which read that The Word Alive would not be canceling any tour dates despite Smith's injuries. The tough rockers kept their word and continued the tour but Telle had to wear a back brace the whole time and so, couldn't move much onstage. Share your thoughts in the comments, and join Alterock Facebook and Twitter to always be in the know about your favorite rock bands!
[schema type="review" url="http://alterock.net/the-word-alive-stream-new-song-trapped/" name="THE WORD ALIVE Stream New Song 'Trapped'" description="The Word Alive are streaming a powerful new track, 'Trapped', from their upcoming album Dark Matter" rev_body="The Word Alive are streaming a brand new track 'Trapped', which appears on their upcoming full-length Dark Matter, coming out March 18 via Fearless Records. " author="Tatiana Vinichenko" pubdate="2016-01-08″ user_review="5″ min_review="1″ max_review="5″ ]