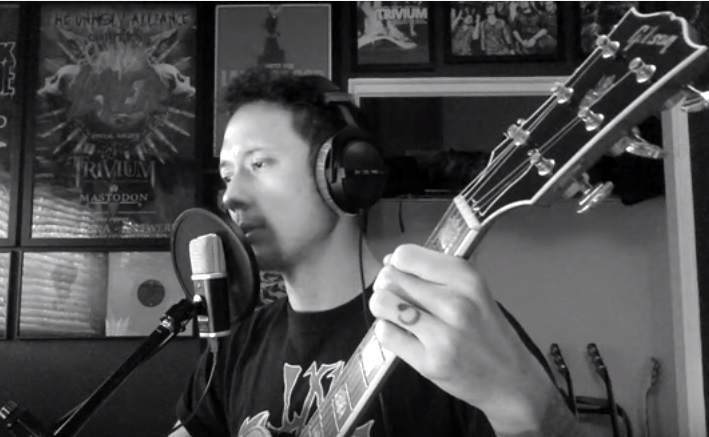 "I've always loved Blink," comments Trivium frontman on picking the 1997′ 'Dammit'
June 30, 2017
We've already heard Matt Heafy covering Elvis Presley, Radiohead, the Misfits, Alice In Chains hits and more. But this time his choice fell on the song from Blink-182's good old album Dude Ranch, which came out back in 1997. Trivium frontman has put his heart and soul into this accoustic cover that he posted today on his YouTube channel.
You might know Heafy as a heavier musician but he does have a punk side to him:
[quote align="center" color="#COLOR_CODE"]"I've always loved Blink, and I wanted to cover "Dammit", but I knew it had to be different," says the singer. "I thought in my head, 'How would In Flames Jester Race/ Whoracle/ Colony -era do "Dammit"?' Musically, this is that result. Vocally, I wanted to stick with that Johnny Cash covers album sorta range, but add in the fun harmonies that I love to do. The result is something I'm definitely proud of."[/quote]
What's more, you might not know that with the cover for 'Dammit' Heafy even went to audition by a pop punk band, which he wasn't given a thumb up for back then:
[quote align="center" color="#COLOR_CODE"]"Before Trivium, I tried out for a pop punk band with the song 'Dammit' by Blink-182, and never made it in the band. Defeated, I was about to give up on music, until I stumbled upon The Black Album by Metallica. You know the rest." (via AltPress)[/quote]
Yes, we do. And we're happy it went the way it went, so we all can now enjoy Trivium, led by Heafy. Check out Heafy's cover below and keep an eye on his YouTube channel for fresh (awesome!) covers.
'Dammit' Lyrics by Blink-182
It's alright to tell me
What you think about me
I won't try to argue
Or hold it against you
I know that you're leaving
You must have your reasons
The season is calling
Your pictures are falling down
The steps that I retrace
The sad look on your face
The timing and structure
Did you hear he fucked her?
A day late, a buck short
I'm writing the report
On losing and failing
When I move I'm flailing now
And it's happened once again
I'll turn to a friend
Someone that understands
Sees through the master plan
But everybody's gone
And I've been here for too long
To face this on my own
Well, I guess this is growing up
Well, I guess this is growing up
And maybe I'll see you
At a movie sneak preview
You'll show up and walk by
On the arm of that guy
And I'll smile and you'll wave
We'll pretend it's okay
The charade, it won't last
When he's gone, I won't come back
And it'll happened once again
You'll turn to a friend
Someone that understands
And sees through the master plan
But everybody's gone
And you've been there for too long
To face this on your own
Well, I guess this is growing up