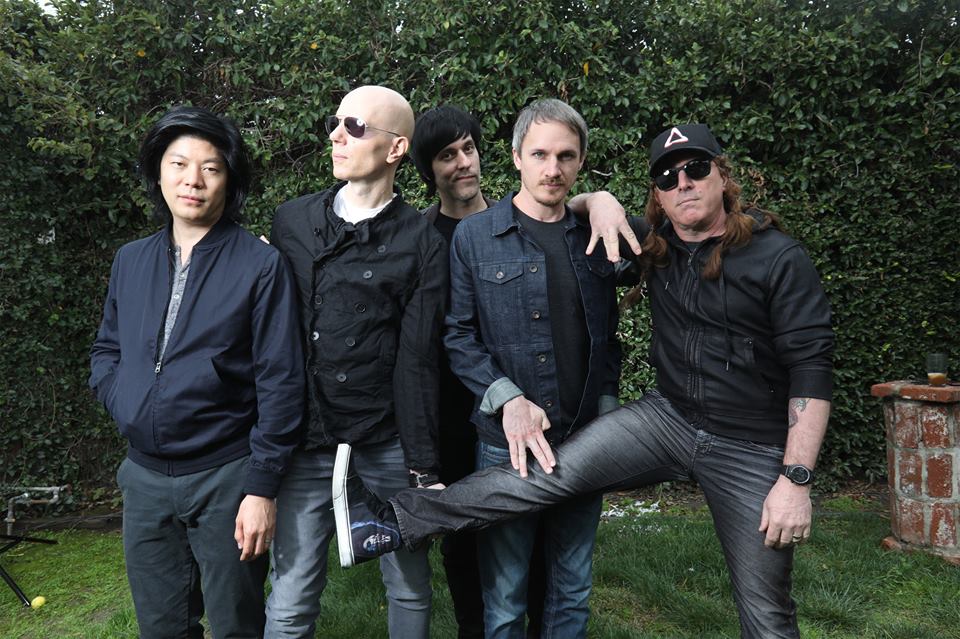 The band intend to release their fourth album in 2017 and to perform new songs already this spring
April 1, 2017
The project, led by Tool frontman Maynard James Keenan, has officially announced in a press release that they've started work on their first studio effort since 2004's eMOTIVe. In addition, A Perfect Circle are getting ready for a 21-date U.S. tour this April/May (see the dates below).
As you know, Keenan has been busy on many fronts over the past few years, so A Perfect Circle have only played a bunch of shows over the past decade. Their last released track was 'By and Down' back in 2013, so fans' anticipation of new music from the band couldn't have been bigger.
According to the fresh press release, published March 30, A Perfect Circle have signed a deal with BMG for the band's upcoming fourth studio record.
[quote align="center" color="#COLOR_CODE"]"We just signed a new record deal with BMG! Looking forward to sharing new music with you soon. New APC-2017!" announced the group's guitarist Billy Howerdel.[/quote]

Although the outfit hasn't revealed the details of the forthcoming album yet, we can expect more precise information in the coming months.
Watch: PUSCIFER shoot to death from slingshots in music video for 'Money Shot'
Currently, Keenan and co. are preparing to hit the road for a row of U.S. shows, kicking off April 7 in Las Vegas and wrapping up with a Los Angeles show at Hollywood Bowl on May 7. The spring set of shows will mark the group's first tour in six years in the U.S. And there's a big chance you'll get to hear some new stuff played during those shows:
[quote align="center" color="#COLOR_CODE"]"We're not promising anything, but I have every intention of doing my best to have us playing some new tracks during this run — with the idea that new music is coming very soon after," Howerdel told Billboard. "When Maynard and I first started talking about working together in 1999, we collaborated on two songs, and the idea hatched to, 'Let's do a live show,' and let that fire under our ass be what's going to propel us to finish this music. … And we approached it the same way this year."[/quote]

In case you're wondering what took A Perfect Circle musicians so long to sit down and write new stuff, remember Keenan has not only been busy with Tool, but also with his other project, Puscifer. In the meantime, Howerdel has been working with Ashes Divide, guitarist James Iha was involved in making a film, and bassist Matt McJunkins has been touring with Eagles of Death Metal.
[quote align="center" color="#COLOR_CODE"]"To be honest, I thought it would be a few years earlier," admits Howerdel, talking about the band's reunion. "There's so many scheduling things between all of us. Maynard's got a lot of projects going on, and it felt like a few years ago it was going to happen, but this is just the way the schedules lined up."[/quote]

With the excess of alt-rock bands out there, A Perfect Circle could have easily found themselves not in demand anymore, after more 13 years without new records. Surprisingly, when they put out new on-sale announcements this past January, the reactions were overwhelming:
[quote align="center" color="#COLOR_CODE"]"To have that happen now is shocking, and I'm still humbled by it all the time," says Howerdel. "Years go by, and people still care and pay attention. There's always a little bit of, 'Oh, I hope people still remember.' I'm older. I have kids. I know a lot of my peers listen to more talk radio than they do music — and I'm probably no different. But there's certain things that stick with me from years ago, and I guess some people feel the same."[/quote]

Do you feel the same? Are you excited to hear new music from the band this year? Let us know in the comments below. Do you like what we're doing? If so, help us grow by sharing the article – this way we can keep providing you latest news and fun interviews with your favorite bands! Stay tuned with AlteRock Facebook and Twitter to never miss on the news about your favorite alternative music!
More: TOOL vocalist receives jiu jitsu purple belt
A Perfect Circle Spring US Tour Dates 2017:
04/07 – Las Vegas, NV @ The Pearl
04/08 – Las Vegas, NV @ The Pearl
04/10 – Phoenix, AZ @ Comerica Theatre
04/11 – San Diego, CA @ Open Air Theatre
04/13 – San Francisco, CA @ Bill Graham Civic Auditorium
04/14 – Reno, NV @ Reno Event Center
04/15 – Sal Lake City, UT @ Maverik Center
04/17 – Denver, CO @ 1st Bank Center
04/19 – Kansas City, MO @ Starlight Amphitheatre
04/20 – St. Louis, MO @ Chafietz Arena
04/22 – Tusla, OK @ BOK Center
04/23 – Grand Prairie, TX @ Verizon Theatre
04/25 – Austin, TX @ HEB Center at Cedar Park
04/26 – San Antonio, TX @ Freeman Coliseum
04/27 – Houston, TX @ Smart Financial Center
04/29 – Jacksonville, FL @ Welcome to Rockville
04/30 – Fort Meyers, FL @ Fort Rock Festival
05/02 – Atlanta, GA @ Verizon Wireless Amphitheatre
05/03 – Nashville, TN @ Bridgestone Arena
05/05 – Concord, NC @ Carolina Rebellion
05/07 – Los Angeles, CA @ Hollywood Bowl