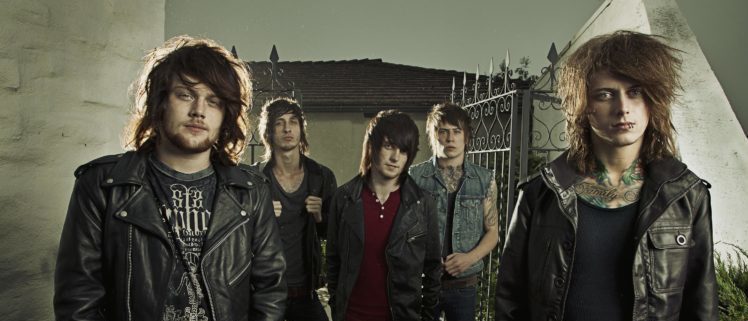 Stoff has left the band, Worsnop returns to his role of the band's singer
October 24, 2016
What an unexpected twist the band had in store! Asking Alexandria has shocked the the rock community this weekend when they announced a sudden departure of singer Denis Stoff and reunion with their original vocalist, Danny Worsnop.
Stoff replaced Worsnop just 18 months ago. Needless to say, AA fans are still in the state of shock about such turn of events. Fans' have split into two camps: some say Stoff wasn't easy to deal with and demanded large sums of money for being part of the band, while others believe he was forced out of the band and the whole story delivered in official media is fabricated.
This past Saturday the news broke that the group would be reuniting with their original voice, Danny Worsnop. The singer posted an official statement, shedding some light on how it happened (but not much).
As you know, in mid-September AA guitarist Ben Bruce and Worsnop buried the hatchet and started building the platform for future collaboration. Here's what he said:
"Two weeks ago I was approached with a question, that as to if I would consider touring with my former band, Asking Alexandria for their upcoming tour '10 Years In The Black'. Now, keep in mind that outside occasional 'Hey man, how've you been?' texts, Ben Bruce and I hadn't spoken since my departure – and the rest of the band, not at all."
Even though Danny Worsnop rejoined AA, he insists his solo career is still his "primary focus" and says he will also continue with We Are Harlot, the band he started before leaving AA:
"It was a long week pondering the decision and figuring out what the right thing to do was. After all, my solo album, The Long Road Home, is about to release, which is, of course, my primary focus. I'm also working on the new We Are Harlot record, and trying to book in as much acting work as possible…

I took this last year off from playing and touring to find myself (pretentious) and re-evaluate my life (cliche), which I NAILED (badass). So, now, after almost two years, I shall be going on tour again with Asking Alexandria. We have spent the last week honing the show and the set to be the best it can be, and best it has ever been, and I hope y'all enjoy watching it as much as we have creating it."
As to the reasons of Alexandria's split with Denis Stoff, no information has leaked yet. The only thing Worsnop said on this: "Whatever happened with Asking Alexandria and Denis Shaforostov is between them, and for them to tell."
What are your thoughts on this twist and Stoff's sudden departure? Be sure to leave your comments and stay tuned with Alterock Facebook and Twitter to never miss on the news about your favorite alternative music!