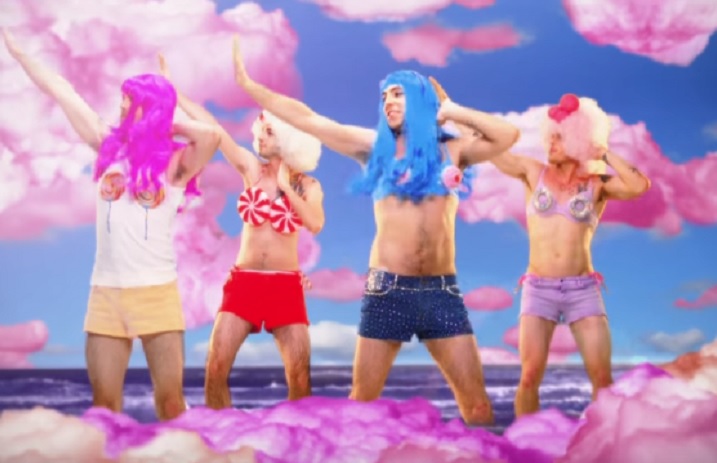 "I enjoy the way these cradle my buns," singer Alex Gaskarth comments on the new underwear line
May 24, 2018
When you're a star, at some point you inevitably start thinking about your own production line. Perfume? Shoes? Sportswear? Boring! So, obviously, thought All Time Low when they decided to launch an underwear line! Honestly, this is a bold move from the musicians – we've got to give them credit for having come up with such an idea. See some of the pictures below!
The band teamed up with lifestyle brand Ethika to design and launch the underwear items. For your choice are men's and women's staples and sports bras in red and blue with the group's Young Renegades logo. The announcement of the line dropped on Twitter, with vocalist Alex Gaskarth adding a very erm.. open comment on the underwear texture and feel:
"Underwear's important," Gaskarth wrote. "I enjoy the way these cradle my buns. Hope you do too!"
Proud and excited to be working with our friends @ethika to bring you this collab! Available now at https://t.co/lG80nwKDT1 pic.twitter.com/KxI3buDQcu

— All Time Low (@AllTimeLow) May 23, 2018
In fact, All Time Low (and Jack Barakat in particular) have had a long history of fruitful collaboration with Ethika and have almost never been seen wearing any other brand but Ethika beforehand, Rocksound recalls.
Go to this location to take a closer look at the new underwear from ATL on offer.
All Time Low have a month-long summer tour of North America ahead, which they will co-headline with Dashboard Confessional. This will be the first leg of the Summer Ever After Tour, kicking off August 3 in St. Paul, Minnesota. Be sure to check out the exact dates and locations their official website.
Ayyyy, we put our heads together with our friends @Ethika to bring you this collab. Underwear's important. I enjoy the way these cradle my buns. Hope you do too! https://t.co/KOwpXCO1Kn

— Alexander William (@AlexAllTimeLow) May 23, 2018
Do you like what we're doing? If so, help us grow by sharing the article – this way we can keep providing you latest news and fun interviews with your favorite bands! Stay tuned with AlteRock Facebook and Twitter to never miss on the news about your favorite alternative music!