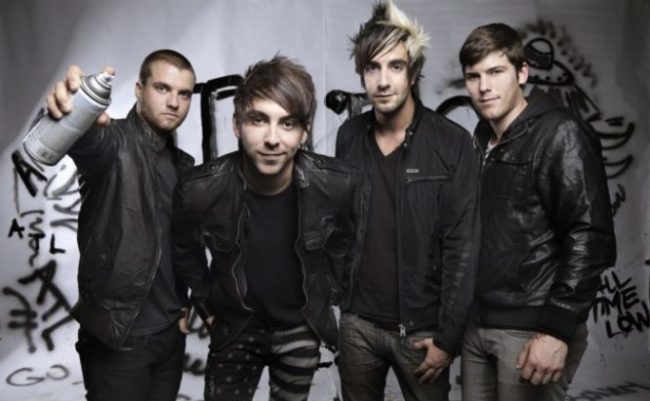 The song sounds pretty differently with Alex Gaskarth's vocals…
March 31, 2017
Even though All Time Low are touring the UK at the moment, they found time to visit BBC Radio 1's Live Lounge, where they decided to perform a take on Lorde's number one hit 'Green Light.' Alex Gaskarth's vocals definitely add a new touch to the pop-song, so be sure to check it out below.
Watch: All Time Low perform acoustic cover for Selena Gomez's 'Hands To Myself'
The band's upcoming, highly anticipated studio album, Last Young Renegade, will be released on June 2. And we've already heard a couple of tracks from it before the official release: first, All Time Low dropped 'Dirty Laundry', and recently they introduced the album's title track.
The group are now finishing their UK tour leg with special guests SWMRS: they'll play the last UK show tomorrow at the O2 Academy Brixton. But it's not long before Gaskarth and co. hit the road again. Starting June 30, All Time Low will be touring with SWMRS, Night Riots, Waterparks and the Wrecks in the US. See their full US itinerary below.
Don't miss All Time Low's cover of Lorde's mega-successful track 'Green Light' and compare it with the original of the song below.
More: All Time Low share new song and music video, 'Take Cover' – watch
Do you like what we're doing? If so, help us grow by sharing the article – this way we can keep providing you latest news and fun interviews with your favorite bands! Stay tuned with AlteRock Facebook and Twitter to never miss on the news about your favorite alternative music!
All Time Low 2017 Dates:
JUN 30 HOUSE OF BLUES HOUSTON, TX
JUL 01 HOUSE OF BLUES DALLAS, TX
JUL 03 THE MARQUEE TEMPE, AZ
JUL 05 HOUSE OF BLUES ANAHEIM, CA
JUL 07 THE NOVO LOS ANGELES, CA
JUL 08 FOX THEATER OAKLAND, CA
JUL 10 ROSELAND THEATER PORTLAND, OR
JUL 11 SHOWBOX SODO SEATTLE, WA
JUL 13 THE COMPLEX SALT LAKE CITY, UT
JUL 14 FILLMORE AUDITORIUM DENVER, CO
JUL 15 UPTOWN THEATER KANSAS CITY, MO
JUL 16 PALACE THEATRE SAINT PAUL, MN
JUL 18 THE PAGEANT SAINT LOUIS, MO
JUL 20 ROYAL OAK MUSIC THEATRE ROYAL OAK, MI
JUL 21 ARAGON BALLROOM CHICAGO, IL
JUL 22 EAGLES BALLROOM MILWAUKEE, WI
JUL 23 EXPRESS LIVE! OUTDOOR AMPHITHEATRE COLUMBUS, OH
JUL 25 STAGE AE – OUTDOORS PITTSBURGH, PA
JUL 26 RAPIDS THEATRE NIAGARA FALLS, NY
JUL 28 HOUSE OF BLUES BOSTON, MA
JUL 29 THE FILLMORE PHILADELPHIA, PA
JUL 31 CENTRAL PARK SUMMERSTAGE NEW YORK, NY
AUG 02 RAMS HEAD LIVE BALTIMORE, MD
AUG 03 RAMS HEAD LIVE BALTIMORE, MD
AUG 04 THE RITZ RALEIGH, NC
AUG 05 TABERNACLE ATLANTA, GA
AUG 06 HOUSE OF BLUES LAKE BUENA VISTA, FL