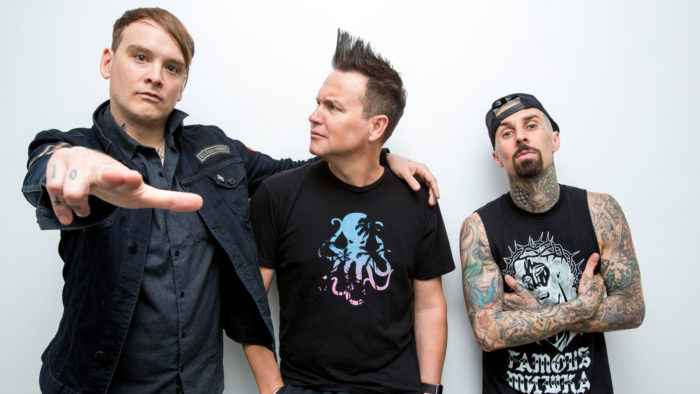 "Misery loves company. I don't need anyone," claim Blink-182 in their new track
March 29, 2017
Blink-182 have dropped plenty of treats for their fans recently, and here is another really good one: the band has just released a new track, 'Misery', from the upcoming deluxe edition of their latest album, California.
Despite the title, 'Misery' is light, catchy and asks to be played on and on. Check out the song along with the lyric video below.
Watch: Blink-182 share "Female" version of 'What's My Age Again?' music video
California deluxe edition is scheduled for release May 19 and features 11 new songs.
Blink-182 are currently on the road with the Naked And Famous and Wavves. Take a look at the list of upcoming shows beneath the video.
But the upcoming release of the deluxe edition is not all there is. Blink-182 are preparing to write new music for the next album! In a new interview with Beats 1, Mark Hoppus told Zane Lowe that by the end of this year, the band will start writing new material:
[quote align="center" color="#COLOR_CODE"]"We're doing this run in the US, then later on we're touring Europe and the UK. Then we come back and do some more dates in the US," says the frontman. "Then we'll take a little bit of time off, and then at the end of this year, we'll go back into the studio and start writing the next album."[/quote]
Stream the new Blink-182 song 'Misery' below. Do you like what we're doing? If so, help us grow by sharing the article on Facebook, Tweeter, etc. – this way we can keep providing you latest rock news and fun interviews! Stay tuned with AlteRock Facebook and Twitter to never miss on the news about your favorite alternative music!
More: Watch Blink-182 perform 'Bored to Death' on The Late Show
Blink-182 Tour dates:
3/22 – Austin, TX @ Austin 360 Amphitheater
3/23 – Houston, TX @ NRG Stadium
3/25 – Las Cruces, NM @ New Mexico State
3/26 – Tucson, AZ @ KFMA Day
3/28 – Lubbock, TX @ Lonestar Amphitheater
3/30 – Kansas City, MO @ Silverstein Amphitheater
4/1 – Dallas, TX @ KDGE Edgefest
4/19 – Flagstaff, AZ @ Northern Arizona University
4/21 – Amarillo, TX @ Aztec Music Hall
4/22 – Rogers, AR @ Wal-Mart Amphitheater
4/23 – Springfield, MO @ Shrine Mosque
4/25 – Pelham, AL @ Oak Mountain Amphitheater
4/26 – Charleston, SC @ N. Charleston Coliseum
4/27 – Knoxville, TN @ Civic Coliseum
5/2 – Pensacola, FL @ Pensacola Bay Center
5/3 – Tallahassee, FL @ The Pavilion
5/4 – Orlando, FL @ Orlando Fairgrounds
5/9 – New Orleans, LA @ UNO Lakefront Arena