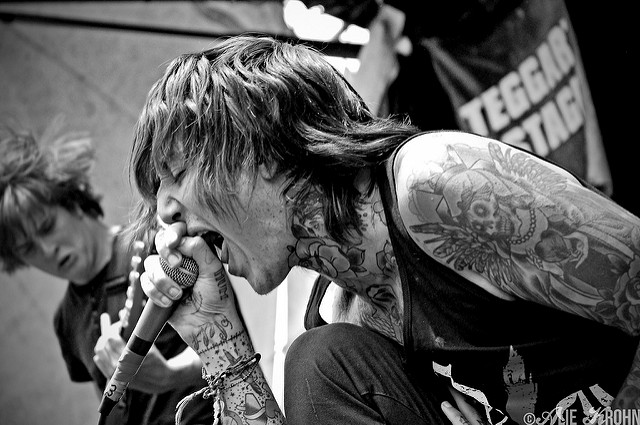 Oli Sykes has posted an early demo of  'Drown' on Instagram
February 15, 2017
Bring Me The Horizon's frontman Oli Sykes has unveiled the mystery today: the promo track for his new clothing line Drop Dead must have reminded you of something… which has turned out to be the early version of the single from their latest album, That's the Spirit! Give both versions a listen below to compare the demo with the final product!
'Drown' was the first single from That's The Spirit, released in September 2015. Sykes also took to Twitter today to confirm that what you hear in the promotional clip IS in fact the demo of 'Drown': "The music from the video was our very first draft of the song that became 'Drown' – a little sneak peak of how different our songs begin!"
Watch: BRING ME THE HORIZON's performance video for 'Avalanche'
Not exactly the way you used to know it, right? In case you forgot what the current version sounds like, here it is:
Speaking of what BMTH's next album is going to sound like, Sykes told NME that they were planning to go off the beaten track and "push it a bit weirder":
[quote align="center" color="#COLOR_CODE"]"I think there's an element of what we're doing now that will stay in the music," Sykes tells NME. "People thought That's The Spirit was a very polished pop rock album—it's not. I think it's inventive and unique, but it's still safe in a way; we knew the songs we're gonna connect well with people. Next time I think we wanna push it a bit weirder. Who knows?"[/quote]
More: Check out Oli Sykes having a blast at his wedding reception!
The singer also promised we'll hear "darker dance-y kind of sound" on the new record: "That's my favourite part—it's something we do that comes across really well live you know when the song to us has a breakdown or like a heavy dance kind of vibe to it," he said. Sykes even mentioned the likes of Prodigy or Massive Attack as an example of what sort of dance elements to expect.
Are you excited to hear 'Drown' and other tracks from the album live? Bring Me The Horizon are prepping to embark on a 30-day North American tour with Underoath and Beartooth. Check out all the dates and locations below and tell us which show you're planning to come to.
How do you like the 'Drown' demo? Share your thoughts in the comments, and join AlteRock Facebook and Twitter to stay tuned for rock and metal news.
Bring Me The Horizon's 2017 Tour Dates:
Mar. 08—Orlando, FL Orlando Amphitheater
Mar. 10—Houston, TX Revention Music Center
Mar. 11—Dallas, TX South Side Ballroom
Mar. 13—Chicago, IL Aragon Ballroom
Mar. 14—Detroit, MI Masonic Temple Theatre
Mar. 15—Toronto, ON Ricoh Coliseum
Mar. 17—Montreal, QC Stade Uniprix
Mar. 18—Lowell, MA Tsongas Center
Mar. 20—New York, NY Terminal 5
Mar. 21—New York, NY Terminal 5
Mar. 22—Philadelphia, PA The Liacouras Center
Mar. 24—Atlanta, GA
Mar. 25—Atlanta, GA
Mar. 27—St. Louis, MO The Pageant
Mar. 28—Kansas City, MO Arvest Bank Theatre
Mar. 29—Broomfield, CO 1st Bank Center
Apr. 1—Seattle, WA Wamu Theatre
Apr. 3—San Francisco, CA Warfield Theatre
Apr. 4—San Francisco, CA Warfield Theatre
Apr. 6—Los Angeles, CA Shrine Expo Hall
Apr. 7—Phoenix, AZ Comerica Theatre
Apr. 8—Las Vegas, NV The Joint