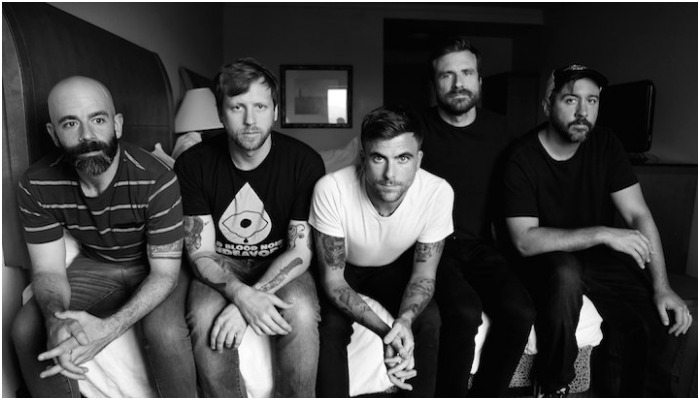 Drummer Steve Clifford has recently injured his shoulder but it didn't stop the band from performing
November 18, 2018
Circa Survive's drummer Steve Clifford recently got a shoulder injury and wasn't able to play with the band last night in California. Most bands would normally cancel the whole show in this case. Most but not Circa Survive. The band decided to stick to the plan, just changed the format of the show to a stripped-down set.
"Anaheim, Steve injured his shoulder and will be unable to play drums tonight," the band wrote about the show at Anaheim's House of Blues to Twitter. "Good news, the show is still on. We're going to play a special stripped down set. Let's get intimate baby."
You can even see the footage of the entire show in a live stream below.
[fbvideo link="https://www.facebook.com/CircaSurvive/videos/878673985856978/" width="500″ height="400″ onlyvideo="1″]
Watch: Some like it risky – Circa Survive demonstrate wonders of acrobatics on stage
What the band is going to do next: continue with stripped-down concerts or cancel the nearest dates? Breathe out! According to Clifford's update on Facebook, "the guys will continue to play a few special arrangements of our tunes as I rest and our friend Javier Torres will be filling in for me on a bunch of songs as well."
In this detailed post, the drummer also unveiled how he dislocated his arm a few times (like, "falling off a semi truck while petting a dog", wha-at?!). Read the full post below.
Circa Survive are soon releasing a deluxe edition of their latest record, The Amulet. You'll also find two bonus tracks on this new edition so get your Amulet here.

Circa Survive Upcoming Tour Dates:
11/17 — Las Vegas, NV @ House of Blues
11/18 — Phoenix, AZ @ The Van Buren
11/20 — Dallas, TX @ Gas Monkey Live!
11/24 — San Antonio, TX @ Alamo City Music Hall
11/25 — Houston, TX @ House of Blues
11/27 — Orlando, FL @ House of Blues
11/28 — St. Petersburg, FL @ Jannus Live
11/30 — Charlotte, NC @ The Underground
12/01 — Philadelphia, PA @ The Fillmore
12/02 — Worcester, MA @ Palladium