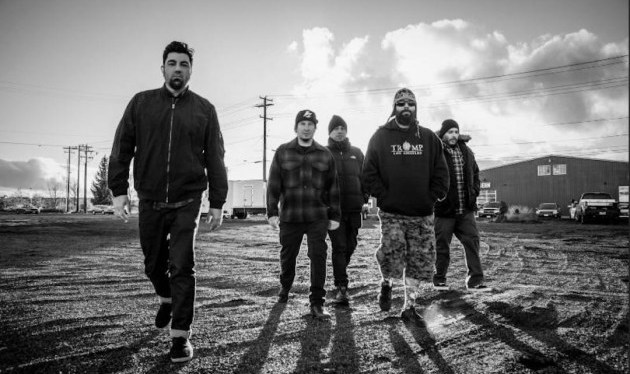 Deftones have shared the new track, 'Hearts/Wires', from their upcoming Gore album
April 4, 2016
Deftones have unveiled one more new song from Gore album – the track titled 'Hearts/Wires'. It's the third track revealed from their forthcoming record, following 'Doomed User' and 'Prayers/ Triangles'. The fresh song premiered last night on Daniel P Carter's BBC Radio 1 Rock Show. During the program, singer Chino Moreno and guitarist Stephen Carpenter also shared their thoughts on writing 'Hearts/Wires'. You can check out Deftones' new song and the discussion aired on Radio 1 below.
The band's upcoming album Gore is due for release on Friday, April 8. The process of recording Gore was not the easiest stage in Deftone's discography. Carpenter explicitly expressed his dislike of the music direction his band mates chose to follow on the new album. The guitarist admitted to Rolling Stone that for him 'Hearts/ Wires' was one of the hardest songs to play on. "That song made me think of Wild Bill the whole time – psycho killer and shit," he explained. "I just didn't feel it. I had to embrace my inner psycho rapist and come up with the part and get into it."
Deftones will jump back on the road on May 8 for another run of shows in the US, booked till mid June. The group will aslo appear at a few festivals, including London's Wembley Arena on June 3. Wembley Arena concert was initially scheduled for 2015 but got postponed in the light of Paris attacks last November. The band will then head straight to Download Festival 2016. See the list of Deftones spring/summer shows below.
Give the new Deftones' song a listen in the player below (the track starts at 2:40). Do you like the new track? Leave us your comments below and stay tuned with Alterock Facebook and Twitter to never miss on the news about your favorite alternative music!

Deftones Spring/Summer 2016 Tour:
05/08 – Concord, N.C. @ Carolina Rebellion
05/10 – Memphis, Tenn. @ Minglewood Hall
05/11 – Nashville, Tenn. @ Ryman Auditorium
05/13 – Pompano Beach, Fla. @ Pompano Beach Amphitheatre
05/14 – Lake Buena Vista, Fla. @ House of Blues
05/15 – Atlanta, Ga. @ Shaky Knees Festival
05/17 – St. Augustine, Fla. @ St. Augustine Amphitheatre
05/18 – New Orleans, La. @ Orpheum Theatre
05/20 – Kansas City, Mo. @ Uptown Theatre
05/21 – Maryland Heights, Mo. @ KPNT Pointfest
05/22 – Columbus, Ohio @ Rock on the Range
05/24 – Sioux Falls, S.D [email protected] The District
05/25 – Wichita, Kansas @ Cotillion Ballroom
05/26 – Oklahoma City, Okla. @ Criterion Theater
05/28 – El Paso, Texas @ Neon Desert Festival
06/03 – London, UK @ The SSE Arena Wembley
06/04 – Mendig, Germany @ Rock AM Ring
06/05 – Nürnberg, Germany @ Rock IM Park
06/10 – Paris, France @ Download Festival
06/11 – Derby, UK @ Download Festival
06/14 – Cologne, Germany @ Palladium
06/15 – Berlin, Germany @ Columbiahalle
06/17 – Aarhus, Denmark @ NorthSide Festival
06/18 – Reykjavik, Iceland @ Secret Solstice