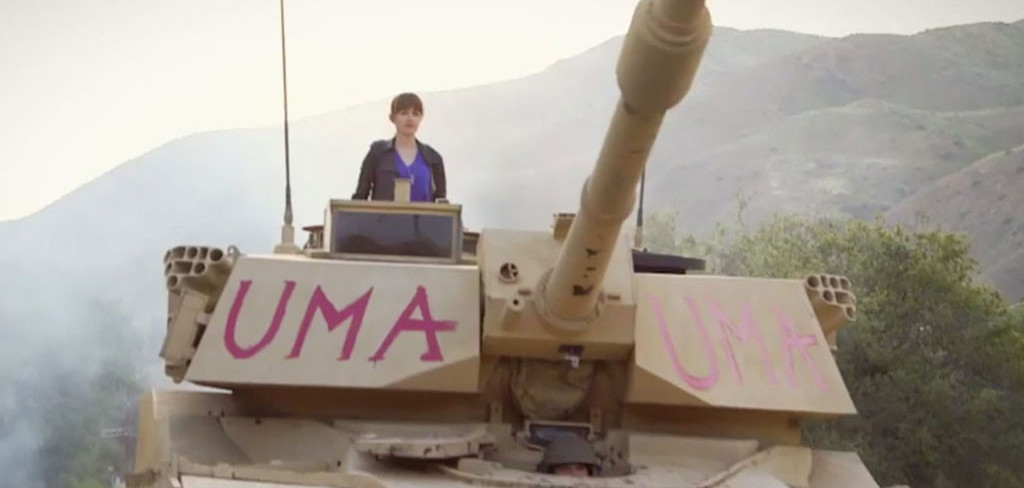 FALL OUT BOY's new crazy, politically-tinged music video for the track Uma Thurman stars Brendon Urie, Big Sean and more
April 18, 2015
In the new video for their single 'Uma Thurman' Fall Out Boy invited their friends in music industry, such as Brendon Urie (Panic at the Disco), Big Sean, Action Bronson, Big Data and MAX. The video touches the sensitive political topic, namely, Alabama state's ruling, obstructing same-sex marriages. The track is featured on the band's most recent studio album, American Beauty/American Psycho, which immediately grabbed No. 1 position on the Billboard Top 200.
'Uma Thurman' music video revolved around the mind-blowing adventures of one lucky girl, Sarah – the band's fan, who had "won" Fall Out Boy's contest to feel what it's like to perform the role of the band's personal assistant for a day. As a PA she has to follow the musicians in their craziest "everyday" routine, like singing karaoke with FOB vocalist Patrick Stump, weightlifting with the drummer Andy Hurley, and riding bulls with Pete Wentz.
Watch the video below and find out how FOB expressed their disagreement with Section 36.03 of Alabama Court, prohibiting low-court judges to issue licenses to same-sex couples. And if you still haven't, make sure to join Alterock Facebook and Twitter to never miss on the news about your favourite rock bands!
[huge_it_slider id="1″]