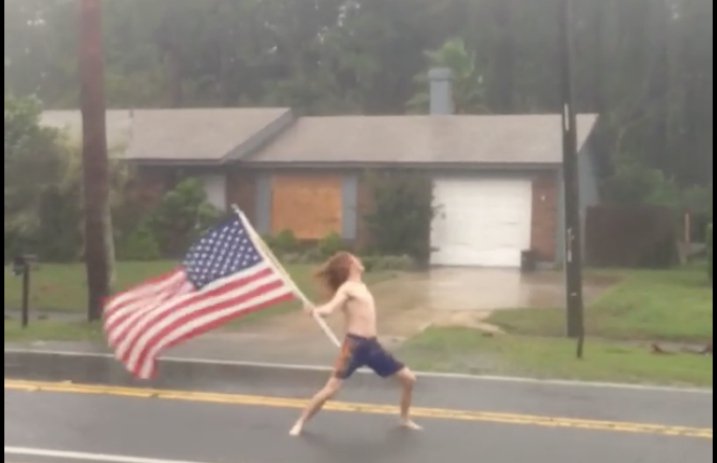 While most people were hiding indoors, Lane Pittman left home for "some hair action"
October 10, 2016
Just a couple of months ago we posted the video of fans lighting a fire at the Russian show of Bullet For My Valentine and moshing around it. That super dangerous, not-to-be-repeated action remained #1 in our rating of top crazy metal initiatives. Until today.
More: BULLET FOR MY VALENTINE Fans Light Fire at Russian Show and Mosh Around It
While most Floridians were following the precautions and stayed indoors during hurricane Matthew, one man decided to face the challenge. Lane Pittman received a request to do "some hair action during the 'cane" and took to the streets in Jacksonville with an American flag.
So that his "hair action" wouldn't be performed in silence, Pittman was blasting Slayer's 'Raining Blood' at full volume. And it looks damn metal! It goes without saying that we strongly discourage you from undertaking anything like this in stormy weather. But at least we can all enjoy this mindblowing video of headbanging against the wind.
Pittman wrote in the caption to his original Facebook post: "Had a request for some hair action during the 'cane. I granted it. #turnt #merica" Check out the must-see video footage below.
Hurricane Matthew jeopardized several tours: some artists, including Garth Brooks, Skid Row and Luke Bryan, had to cancel their shows due to threats of dangerous weather. Neck Deep cancelled their show in Wilmington, North Carolina, because of evacuations. However, other rock acts – Sum 41, Pierce The Veil, Set It Off and Against Me! – managed to make their shows happen despite all the warnings.
What do you think of the metal fan's "hair action" in the face of the hurricane? Share your thoughts in the comments, and join Alterock Facebook and Twitter to stay tuned for rock and metal news.