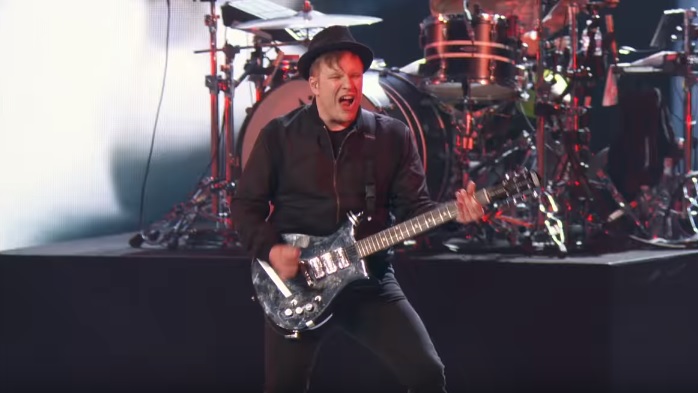 The clips of 'Light 'Em Up' and 'Sugar, We're Goin' Down'  are featured on the upcoming tour DVD
October 12, 2016
Just a week to go till Fall Out Boy release a concert film documenting their last year's homecoming show – the live DVD, titled The Boys Of Zummer Tour: Live In Chicago. The picturesque show will be available on DVD, blu-ray and digital platforms.
FOB have teamed up with Alternative Press to premiere a clip, featured on the upcoming DVD: a fiery performance of 'Light 'Em Up'. Watch the pyro-driven video below.
More: Hear FALL OUT BOY's Must-Dance Soundtrack 'Ghostbusters (I'm Not Afraid)'
And surprised don't end here. The band took to YouTube last night to post another live video from the Chicago gig – this time, for 'Sugar, We're Goin' Down'. Take a look:
The Boys Of Zummer Tour contains the career-spanning homecoming show in support of FOB's 2015 album American Beauty/American Psycho. The band played a couple of hits from their breakthrough album – 'Sugar, We're Going Down' and 'Dance, Dance' – as well as their latest tracks, such as 'Uma Thurman', with an appearance by Wiz Khalifa.
FOB's highly anticipated DVD is due out October 21. The rockers have recently wrapped up their Bloom tour. On September 16 Pete Wentz posted a video summary of the last show they played at the Del Mar Fairgrounds in Del Mar, CA. Check it out below along with the band's teaser of the upcoming DVD.
Share your thoughts in the comments, and join Alterock Facebook and Twitter to stay tuned for rock and metal news.