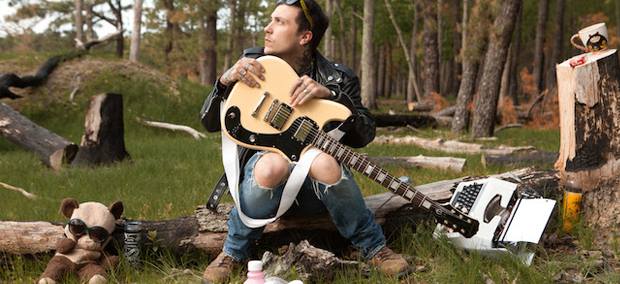 Iero and his band cancelled the rest of the tour "due to the severity of injuries sustained in Australia"
October 18, 2016
After ex-My Chemical Romance's guitarist Frank Iero got into a traffic accident in Australia last week, he had to cancel the rest of 2016 tour dates. The official statement reads that the band cannot go on with the tour "due to the severity of injuries sustained in Australia."
As reported ealier, the band was involved into a severe traffic accident last week. The band's tour van was parked in front of Australia's Twitter Headquarters when a bus crashed into the back of it. Iero "escaped injury but two other men had to be taken to hospital".
Iero later took to Twitter after the accident to tell fans "thanks all for the well wishes. We're pretty banged up but miraculously alive and in stable condition. I'm still in a state of shock."
See My Chemical Romance's original tweet as of October 13 below.
— My Chemical Romance (@MCRofficial) October 13, 2016
At first, Iero and Co. only called off the show at Sydney's Metro Theatre but it has just been announced that the band has cancelled all remaining 2016 tour dates (via Rock Sound). Iero was scheduled to play a series of shows in North America this and next month.
Will Frank Iero And The Patience still embark on a UK/European tour with Taking Back Sunday in February 2017? This information is still to be revealed, so stay updated for more AlteRock news on Iero's touring plans.
Be the first to leave your comments and stay tuned with Alterock Facebook and Twitter to never miss on the news about your favorite alternative music!
The cancelled dates are as follows:
Oct 28 Starland Ballroom Sayreville, NJ
Oct 29 Baltimore Soundstage Baltimore, MD
Oct 30 The Foundry @ The Fillmore Philadelphia Philadelphia, PA
Nov 02 The Masquerade Atlanta, GA
Nov 03 Metroplex Little Rock, AR
Nov 04 Gas Monkey Bar N' Grill Dallas, TX
Nov 06 The Crescent Ballroom Phoenix, AZ
Nov 07 Chain Reaction Anaheim, CA
Nov 09 Troubadour West Hollywood, CA
Nov 10 Social Hall SF San Francisco, CA
Nov 11 W.O.W. Hall Eugene, OR
Nov 12 Wonder Ballroom Portland, OR
Nov 13 The Crocodile Seattle, WA
Nov 15 Kilby Court Salt Lake City, UT
Nov 16 Marquis Theatre Denver, CO
Nov 18 The Blue Note Columbia, MO
Nov 19 BOTTOM LOUNGE Chicago, IL
Nov 20 The Shelter Detroit, MI
Nov 21 The Intersection Grand Rapids, MI
Nov 22 The Agora Ballroom Cleveland, OH
Nov 23 Stage AE Pittsburgh, PA
Nov 25 The Sinclair Cambridge, MA
Nov 26 Bowery Ballroom New York, NY
Nov 27 The Ballroom at the Outdoor Space Hamden, CT