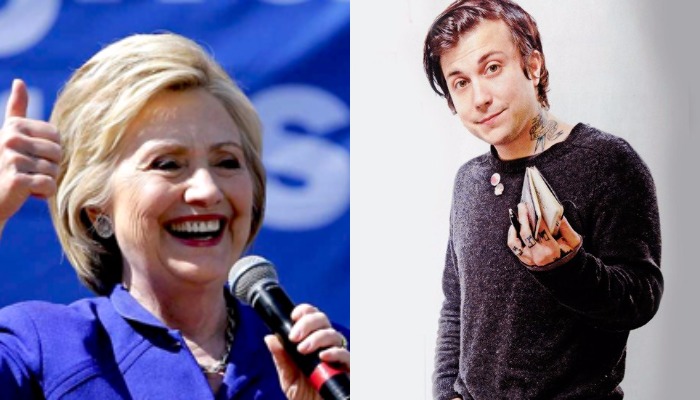 Frank Iero accuses media of irresponsible coverage of US president election rally
June 7, 2016
Ex-My Chemical Romance's musician Frank Iero couldn't ignore inaccurate reporting of the news concerning US president election marathon. Media rush to be the first to report the breaking news and well… sometimes end up on the thin line of accurate fact-checked journalism and pseudofacts in attempt to attract more and more readers.
Yesterday, June 6, AP spread the news that Hilary Clinton has enough commitments from pledged and new superdelegates, necessary to secure the Democratic presidential nomination. Later in the news article it reads that the count of superdelegates' votes was based on a survey, whereas in fact, superdelegates don't vote until the convention. The "news" was picked up by CBS and the rest of the media. All of them claim that Hillary Clinton has already reached the number of delegates needed to clinch the Democratic nomination for president.
Frank Iero has expressed his view on such inaccurate reporting in a tweet which reads: "It doesn't matter who I'm voting for. Irresponsible journalism like this should not be tolerated" and added "fuck voter suppression". See Frank's tweets below.
More: Tweet of the Day – FRANK IERO's Post Ignites Hate for Moms Showing Pics of Their Babies – read here
Many articles added updates, following the confusion. Bernie Sanders spokesman Michael Briggs said media could not rely on delegates' votes ahead of the convention: "It is unfortunate that the media, in a rush to judgement, are ignoring the Democratic National Committee's clear statement that it is wrong to count the votes of superdelegates before they actually vote at the convention this summer," he stated.
Do you agree with Frank that is's the case of voter suppression?
Be the first to leave your comments, share the article, and stay tuned with Alterock Facebook and Twitter to never miss on the news about your favorite alternative music!
It doesn't matter who I'm voting for. Irresponsible journalism like this should not be tolerated. https://t.co/a1afjJGSPX

— frnkiero (@FrankIero) June 7, 2016
fuck voter suppression. — frnkiero (@FrankIero) June 7, 2016
Confirmed: @CBSPolitics declares @HillaryClinton has secured enough new #SuperDelegate commitments to clinch nomination. — Major Garrett (@MajorCBS) June 7, 2016
We're flattered, @AP, but we've got primaries to win. CA, MT, NM, ND, NJ, SD, vote tomorrow! https://t.co/8t3GpZqc1U

— Hillary Clinton (@HillaryClinton) June 7, 2016