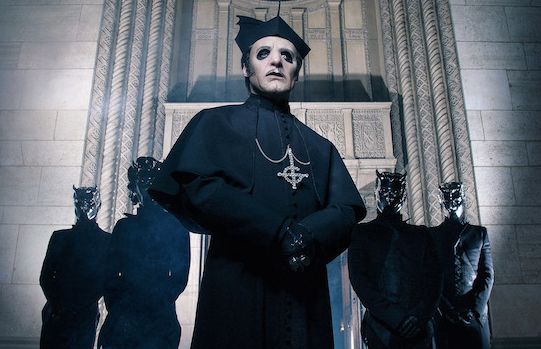 A man collapsed in the pit in the intermission and later died in the hospital
June 1, 2018
Ghost decided to end their show last night, May 31, in Milwaukee, after a fan collapsed in the pit. The man was immediately hospitalized but the doctors couldn't revive him.
The incident occurred right before the release of Ghost's new album, Prequelle. Ghost had just completed Act I of their Rats! on the Road show, followed by a traditional speech from Cardinal Copia, when a man collapsed in the crowd. He was transported straight to the hospital, where paramedics reportedly performed CPR on him for 15 to 20 minutes – unfortunately, they were unable to revive him.
Soon the staff told the fans the show was cancelled due to a "terrible tragedy" (via Loudwire). The Milwaukee County Medical Examiner's Office later reported that the man died of natural causes.
Here is Ghost's statement on cancelling the show:
[quote align="center" color="#COLOR_CODE"]"Tonight, in Milwaukee there was a medical emergency with one of our fans." Ghost shared on Twitter. "We decided not to continue out of respect to him and his family. Ghost and all who work with us ask that you please send the family your thoughts, prayers and respect their privacy during this time."[/quote]
The band soon posted another post, offering their condolences:
"This morning we learned that the man taken to the hospital from our show last night in Milwaukee passed away from natural causes. Our hearts are broken for him & his family. Again we ask you to send the family your prayers, condolences & respect their privacy during this time."
Help us grow by sharing the article – this way we can keep providing you latest news and interviews with your favorite bands! Stay tuned with AlteRock Facebook and Twitter to never miss on the news about your favorite alternative music!
Tonight, in Milwaukee there was a medical emergency with one of our fans. We decided not to continue out of respect to him and his family. Ghost and all who work with us ask that you please send the family your thoughts, prayers and respect their privacy during this time.

— Cardinal Copia (@thebandGHOST) June 1, 2018