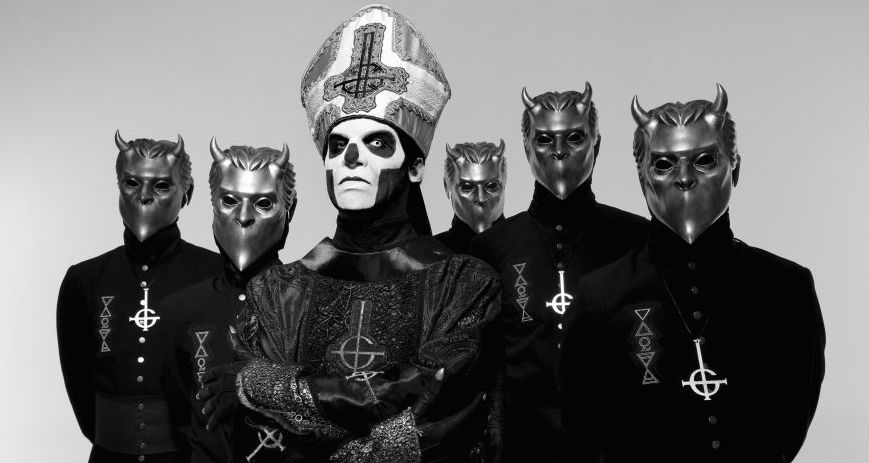 Ghost took home the Swedish Grammy equivalent for Best Hard Rock/Metal + performed 'He Is' at the ceremony
February 25, 2016
Swedish breakthrough band Ghost, who had just won a Grammy award in Los Angeles, has now been honored with the Best Hard Rock/Metal award at the Swedish Grammis (the country's Grammy equivalent). The occult rockers then got back onstage to perform 'He Is' at the ceremony. Grammis took place on Wednesday, February 24 at Cirkus in Sweden's capital, Stockholm. You can watch the winner announcement and Ghost's acceptance speech and the performance footage below.
Best Hard Rock/Metal nominees for Swedish Grammis were as follows:
* GHOST – "Meliora"
* BACKYARD BABIES – "Four By Four"
* GRAVEYARD – "Innocence & Decadence"
* REFUSED – "Freedom"
* TRIBULATION – "Children Of The Night"
As reported earlier, Ghost got the Grammy in the Best Metal Performance category for their song 'Cirice' at the 58th annual Grammy Awards, held at the Staples Center in Los Angeles on February 15. The band has beaten really powerful rivals – Slipknot, August Burns Red, Lamb of God and Sevendust. 'Cirice' also recently hit US rock radios' Top 10.
It's the second Grammis win in a row for Ghost. In 2015 they received the award for Infestissumam. The rockers were also nominated in 2011 for Opus Eponymous, but that time the award went to another nominee. In addition, Ghost took two trophies at 2015 Loudwire Music Awards, where A Nameless Ghoul took the prize for Best Bassist, and Meliora album was voted Best Metal Album.
More: GHOST Take Home Best Metal Performance Grammy for 'Cirice' (watch the video)
After the winter holiday break, Ghost are ready to jump back on tour with a row of European dates to come and then will head to the U.S. for another leg of shows beginning April 13 in Montclair, NJ. Tickets are already on sale.
Check out Ghost's performance of the song 'He Is' at Swedish Grammis below. Share your thoughts in the comments, and join Alterock Facebook and Twitter to stay tuned for rock and metal news.