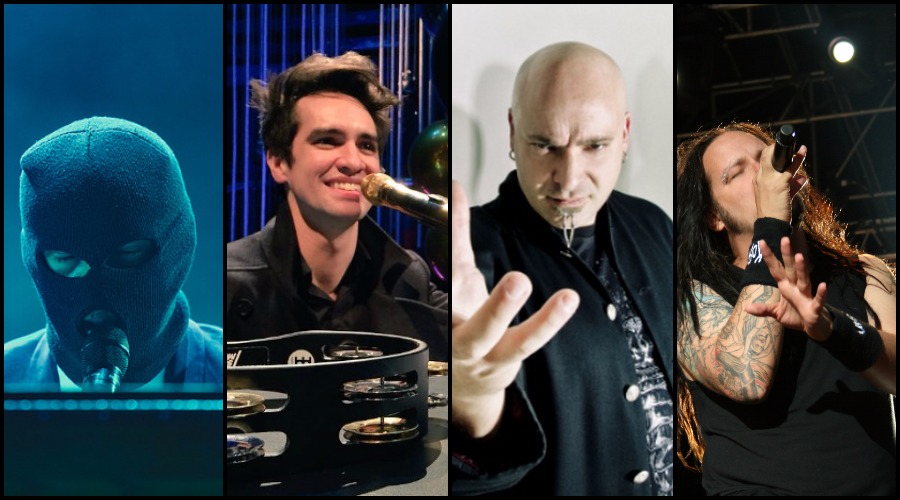 Twenty One Pilots have the biggest chance to take home a statuette, with 5 nominations in total
December 6, 2016
Attention: This article reflects the editor's personal opinion and is not intended to be purely objective!
The Grammys are on fire this year! The 59th annual music award ceremony has just announced its nominees, and this year you should definitely get glued to the screen, because some of your favorite bands are going to be at the ceremony. This time really strong bands and songs are competing for the statuettes.
Do you remember: MUSE Win Best Rock Album for Drones at 58th Grammy Awards
In rock/metal-related categories you'll find Twenty One Pilots, Disturbed, Blink-182, Panic! At The Disco, Weezer, Periphery, Korn and Radiohead. This year's favorites are Twenty One Pilots: they are nominated for five awards: Record of the Year, Best Pop Duo/Group Performance, Best Rock Performance, Best Rock Song and Best Song Written For Visual Media.
Now let's go through the list of rock and metal nominees together, as AlteRock has always taken pleasure in guessing the winner in each category. Let's take a look at the Best Rock Performance nominees:
Best Rock Performance
"Joe (Live From Austin City Limits)" — Alabama Shakes
"Don't Hurt Yourself" — Beyoncé Featuring Jack White
"Blackstar" — David Bowie
"The Sound Of Silence" — Disturbed
"Heathens" — Twenty One Pilots
Even though Grammys love Beyoncé and her last multimedia effort has been highly acclaimed, I dare to predict that the category giants here are not Beyoncé or last year's favorites Alabama Shakes but Disturbed and Twenty One Pilots. The Pilots have been on top of the charts with this catchy Suicide Squad soundtrack. As for Disturbed 's 'The Sound Of Silence', unlike its title, has made a lot of noise, granting the band a triumphal return from a long hiatus. David Draiman's touching acoustic and orchestra performances of the track have revived long-gone interest to the song's original by Simon and Garfunkel. So with a high degree of confidence we believe it'll be Disturbed who'll win the award.
Best Metal Performance
"Shock Me" — Baroness
"Slivera" — Gojira
"Rotting in Vain" — Korn
"Dystopia" — Megadeth
"The Price Is Wrong" — Periphery
Here is a much more complicated case, with the nominated tracks being really strong from most of the rivals. We'd like to believe it'll be 'Rotting in Vain' by Korn with its 10 million views on Youtube but it might be easily the French band Gojira whose song lyrics contain powerful life-asserting lines such as "Time to open your eyes to this genocide" and "When you change yourself, you change the world". Let's see if Megadeth's 'Dystopia' withstands the competition thanks to its melodism but I'll stick to Korn and Gojira as #1.
Best Rock Song
"Blackstar" — David Bowie, songwriter (David Bowie)
"Burn the Witch" — Radiohead, songwriters (Radiohead)
"Hardwired" — James Hetfield & Lars Ulrich, songwriters (Metallica)
"Heathens" — Tyler Joseph, songwriter (Twenty One Pilots)
"My Name Is Human" — Rich Meyer, Ryan Meyer & Johnny Stevens, songwriters (Highly Suspect)
Now this section is the most contradictory and also the least logical, mixing all genres and degrees of "heavyness". Judging by this year's overwhelming response to Metallica's new effort, 'Hardwired' has a certain chance for a trophy but I'm going to go with the Pilots' 'Heathens', as none of the other tracks are even remotely close to the Pilots' half a billion views.
Best Rock Album
California — Blink-182
Tell Me I'm Pretty — Cage The Elephant
Magma — Gojira
Death Of A Bachelor — Panic! At The Disco
Weezer — Weezer
As hard as it is to make any predictions here, I'll risk and say Panic! At The Disco are going to win the Best Rock Album with their record-breaking #1 album Death Of A Bachelor. The band has recently been announced the highest-earning one on Spotify and other streaming services. Blink-182 might stand a chance as well due to their strong comeback record but Panic! are still way ahead by fans' response.
Best Alternative Music Album
22, A Million — Bon Iver
Blackstar — David Bowie
The Hope Six Demolition Project — PJ Harvey
Post Pop Depression — Iggy Pop
A Moon Shaped Pool — Radiohead
Hey, here it really might be David Bowie, as no one has managed to go as alternative in the sense of extraordinary and influential.
The 59th Grammys will be held on February 12 at the Staples Center in Los Angeles, hosted by James Corden. Tune in CBS to see the live broadcast of the ceremony. It does promise to be interesting this time… Are your predictions different? Share your thoughts in the comments, and join AlteRock Facebook and Twitter to stay tuned for rock and metal news.
by Tatiana Vinichenko