Shocker! With 3 categories yet to be revealed, Twenty One Pilots haven't won in most nominations
February 13, 2016
The 59th Grammy Awards ceremony, being broadcast right now, at this very moment, has turned out to be more of a tribute to David Bowie: the late has received multiple statuettes in almost all rock-related categories, including: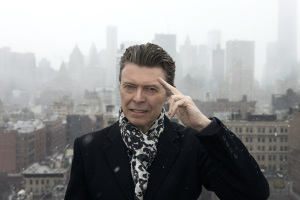 – Best Rock Song ('Blackstar')
– Best Rock Performance ('Blackstar')
– Best Alternative Music Album (Blackstar)
Predictions and expectations: Panic! At The Disco, Disturbed, Korn & Twenty One Pilots Get Grammy Nominations
Though the winners in three General Field categories — Record Of The Year, Album Of The Year and Song Of The Year are yet to be revealed, all rock/metal winners have already been announced, and we couldn't be more surprised. Though honoring the late alternative/rock idol is unquestionably essential, it came off as a bit of a shock that Grammys have left behind all the other brilliant hardworking nominees this year.
This year's Grammys have also proved puzzling on another front. Earlier we informed you that Twenty One Pilots were the potential favorites of the 2017′ ceremony, with five nominations, mostly for their singles 'Heathens' and 'Stressed Out', the renowned Ohio duo has't won in most nominations this past night. So far the band has only won the Best Pop Duo/Group Performance for 'Stressed Out'.
In a similar manner, 2017 Grammys haven't cheered Disturbed, nominated for the performance of 'The Sound Of Silence', nor have they taken hats off to Metallica for taking the world by storm with 'Hardwired' or Radiohead have had a very fruitful year with their new record.
Best Rock Performance
"Joe (Live From Austin City Limits)" — Alabama Shakes
"Don't Hurt Yourself" — Beyonce? Featuring Jack White
"Blackstar" — David Bowie – WINNER
"The Sound Of Silence" — Disturbed
"Heathens" — Twenty One Pilots
Best Rock Song
"Blackstar" — David Bowie, songwriter (David Bowie) – WINNER
"Burn the Witch" —Radiohead, songwriters (Radiohead)
"Hardwired" — James Hetfield & Lars Ulrich, songwriters (Metallica)
"Heathens" — Tyler Joseph, songwriter (Twenty One Pilots)
"My Name Is Human" — Rich Meyer, Ryan Meyer & Johnny Stevens, songwriters (Highly Suspect)
In the category Best Rock Album we were in for one more unusual selection: Panic! At The Disco and Blink-182 seemed to be the most likely candidates for a win this time, especially Panic!'s #1 album Death Of A Bachelor, but here we are with Cage The Elephant taking home the award for their latest record Tell Me I'm Pretty.
Best Rock Album
California — Blink-182
Tell Me I'm Pretty — Cage The Elephant – WINNER
Magma — Gojira
Death Of A Bachelor — Panic! At The Disco
Weezer — Weezer
The only "bingo" among 2017 Grammy results is probably Megadeth, who have won Best Metal Performance for their recent track 'Dystopia'. Korn were that lucky this time, despite their powerful single 'Rotting in Vain', nominated in the same field.
Best Metal Performance
"Shock Me" — Baroness
"Slivera" — Gojira
"Rotting in Vain" — Korn
"Dystopia" — Megadeth – WINNER
"The Price Is Wrong" — Periphery
But both Cage The Elephant and Megadeth probably wouldn't have stood the chance if their rival in the category had been David Bowie…
More: Legendary rockers React to DAVID BOWIE's Passing
What do you think of the results? How did you think would win in those nominations? Be the first to leave your comments and stay tuned with AlteRock Facebook and Twitter to never miss on the news about your favorite alternative music!