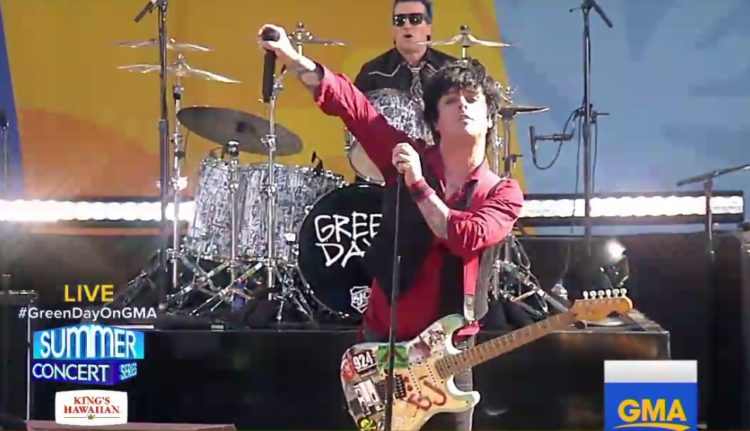 Fans got up early to see Green Day live in Central Park on Good Morning America
May 20, 2017
Your morning (or evening) will get lit up by this video footage of Green Day performing on Good Morning America. The band took to the stage to rock their hits 'Still Breathing', 'Revolution Radio' and 'Youngblood' from Revolution Radio, as well as their legendary 1994′ song 'Basket Case' and 'Know Your Enemy' from the 2009 record, 21st Century Breakdown.
Green Day have been touring tirelessly since their last album, Revolution Radio, came out in October 2016, bringing them back to No. 1 chart positions. And touring is still far from over. Billie Joe Armstrong and co. are preparing to kick off another portion of Revolution Radio tour in August. Support comes from the British up-and-rising band Catfish And The Bottlemen.
And, of course, we are all excited about the upcoming world premiere of the film Turn It Around: The Story of East Bay Punk, which takes place on May 31 in San Francisco. It's a documentary about the path of California's East Bay punk music, produced by Green Day and narrated by Iggy Pop.
The film features footage from hundreds of gigs, thousands of photos and interviews with punk starts who left their mark in creating the punk scene we know today. The documentary has been in the works since 2014 and will finally be released on May 31.
Watch: Billie Joe Armstrong invites rock legend Joan Jett for surprise show
Check out Green Day perform in Central Park on Good Morning America show below. Do you like what we're doing? If so, help us grow by sharing the article – this way we can keep providing you latest news and fun interviews with your favorite bands! Stay tuned with AlteRock Facebook and Twitter to never miss on the news about your favorite alternative music!
Green Day perform 'Still Breathing' in Central Park:
Green Day perform 'Know Your Enemy' in Central Park: