Read the interview and find out what Pain frontman Peter Tägtgren is working on with his son and why he hates to be the front person!
AlteRock caught up with Peter Tägtgren before his recent show at Club Tapper in Tallinn. Who would have thought that on Monday, which was by the way the bank holiday following the Easter weekend, so many people would show up to see Pain live? Even though Peter had woken up after a long journey just a few hours earlier, he was full of energy and ready to answer our numerous questions…
– The tour is called 'Coming Home' so my first question will be: when are you actually coming home? Because I know you've got a tour to do and some festivals coming up…
– Yeah, well this one is a short one. It's only two and a half weeks. And then in summer we have about 10 festivals. That's easy.
– Since the tour just started last Friday, how was the audience response at the first shows?
– Well, we did Poland on the Easter weekend. You know they're very Catholic and stuff so there was not so many people. I didn't book it and I don't know why we started on the Easter. It's a family thing, you know.
– Are there any surprises on this tour so far that certain songs get more welcoming and response than the others?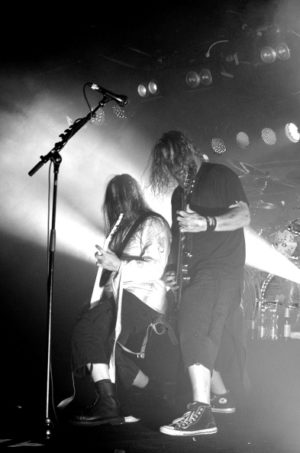 – Not really. Not yet. We were also thinking of pulling out some more songs. Now unfortunately our bass player couldn't go with us so we have a bassist from Dynazty jumping in there and playing the bass for us. It's also a tricky thing, you know. He has to know the songs so we can't just change the way we would like to, you know. We are going to use soundchecks to practice new songs or old songs that he never practiced.
– And based on the whole tour in support of the album, which songs stand out live?
– Well, from the new album many people like 'Call Me' and 'Coming Home', even though it's a ballad. We like to do the roller coaster feeling at the concert: heavy, then come down a little bit and then go back up again.
– You've got such a bunch of famous songs already. How do you choose which you'll play at the shows?
– Yeah, there are some songs that we have to play, like 'Shut Your Mouth', 'Same Old Song', 'Dirty Woman' – you name it. We always try to keep those. And then we can switch the other ones a little bit.
– I know this question must have been asked a thousand times but personally I'm interested if you are absolutely sick and tired of the song 'Shut Your Mouth'?
– When I hear it, yes. But when I'm on stage it's totally different. Because people are freaking out. But if I hear someone plays it in the stereo, then I'm like "Aaaaaargh!"
– What is the first thing you're going to do when you come home?
– I'm going to work on some productions, on the new album of Immortal – I'll try to finish that up. Me and my son, we're writing some stuff together: we have like 20 songs or something. So we need to start completing those songs and then send them out to record companies and see if someone wants to release it. And then we'll take it from there: we'll see if we go on tour with that material. And we can always put some Hypocrisy songs, some Pain songs in the live set.
– It's just going to be you and your son?
– Yeah, and then, of course, we'll get a bass player and another guitarist – a touring band.
– How do guys divide the duties in the band between you and your son?
– When I'm in the studio, I sit and write and then I'm getting tired, so I go up and he goes down and keeps on writing. And sometimes we work together.
– And I read you don't really want any keyboards in there, is that right?
– Yeah, I said let's not do any keyboards at all. Just try to make whatever melodies we need, we do it on the guitar. Just to make it more simple, more guitar-driven music.
– In the future do you see yourself more as a producer or a singer and musician?
– I don't know. I love to write music and I love to perform. It all depends on what kind of bands should I get to work with.
– Do you have a lot of collaborations coming up?
– Sometimes yes, but sometimes you have to say no because it's too stupid (laughs). I never turn down any band to produce. It's more about timing: if my schedule is full, they have to wait for a year. And sometimes that's too late, so they move to another studio.
– Let's talk a little bit about your project with Till Lindemann. When I saw the videos from the autograph sessions everybody was like "Till! Till!", and you're kind of in the second place in the band. How do you feel in this new role?
– It's perfect for me because I hate being the front person.
– You do?!
– Yeah! Because everything I'm in I have to be the front person so now it's really nice. I sit and smile and I'm like "Good luck!" But I'm still fully involved, you know.
– I read about a Lindemann autograph session in Moscow with you and Till. It was such a mess with 5,000 people…
– No, it was 9,000! It was 4000 inside and 5000 outside. It was insane.
– Why do you think there's such a huge response from Russia?
– I think, it's a lot of Till, of course. But it's also a lot to do with 'Shut Your Mouth', because Pain is doing really good in Russia. Two successful bands become a huge success.
– What are your plans for the rest of the year?
– I think we'll go to tour America in September. It finally looks like it's going to happen now. I don't know if we are going to do something in November, do a co-headlining tour with a bigger band or something. It's all in process.
– You did a tour with Nightwish. Do you see it happening sometime in the future again?
– I'm sure it could happen again. I talked to the manager the other day, 'cause they had a gig in Warsaw. Now I think they're going to take some time off to write music, and maybe we can work on the next tour. We got along great so yeah, I hope so.
Keep an eye on Part II of the interview (coming up next!) "Pain frontman plays AlteRock's game THE LAST TIME"
Do you like what we're doing? If so, help us grow by sharing the article – this way we can keep providing you latest news and fun interviews with your favorite bands! Stay tuned with AlteRock Facebook and Twitter to never miss on the news about your favorite alternative music!
Interview by Tatiana Vinichenko
Main photo credit: press
Featured photos by Bitch Hard Girls Squad
AlteRock thanks Tõnis and Bad Promotions OÜ for organizing this interview