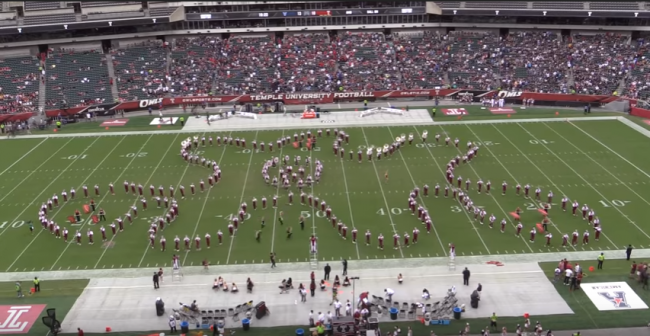 The superb university marching band fell in love with another Panic! At The Disco track…
September 17, 2018
Hundreds of Temple University musicians, known as Temple Marching Band, continue to blow us away with their marvelous, immaculate halftime performances. The group had previously drew inspiration from the songs of Twenty One Pilots, The Killers and Panic! At The Disco, and they seem to have their favorite these years…
The Temple Marching Band has delivered a triumphal visual and audial cover of Panic! At The Disco's new track, 'High Hopes' (yes, the one with gravity-free Brendon Urie walking up the skyscraper in the music video). The enormous effort has made Urie's day today. Let's hope the singer is not going to get too high-and-mighty having enjoyed so much attention from the troop and beyond.
A couple of years ago the university band did an amazing medley of the band's old tracks, from 'This is Gospel to ' 'Don't Threaten Me With a Good Time,' crowning it with 'I Write Sins Not Tragedies' and 'Victorious.'
This time the band has set even higher standards marching in superb shapes to 'High Hopes', the track from Panic's latest album, Pray For The Wicked. Enjoy the stunningly synchronized performance below, and tell us what you think of it in the comments!
Panic! At The Disco have just announced the second part of their Pray For The Wicked Tour, which means criss-crossing North America well into 2019. Which of their shows are you planning to see on this tour?
Stay tuned with AlteRock Facebook and Twitter to never miss on the news about your favorite alternative music!
You know what day it is 😉 https://t.co/aULobQZ0GC @TempleUniv Diamond Marching Band over here killin a few #PrayForTheWicked songs! High Hopes = 😍 https://t.co/CWpMcvM3MP #CherryOn 🍒 pic.twitter.com/xVVEBzA0fF

— Panic! At The Disco (@PanicAtTheDisco) September 15, 2018