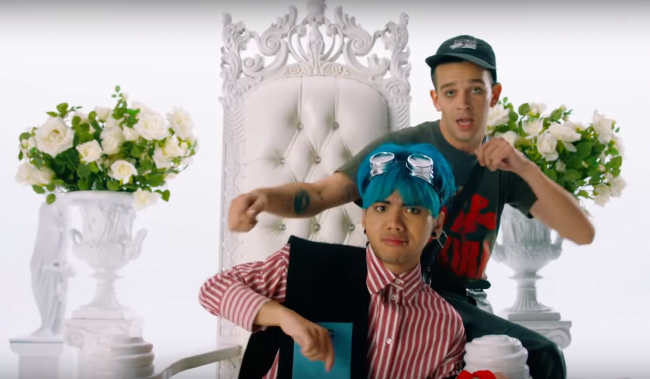 Like the title implies, the clip is a parody on narcissistic singers' and boybands' videos
October 12, 2018
Remember that 'Narcissist' collaboration from the 1975's singer Matt Healy and an up-and-rising talent No Rome? So now we've got a hilarious music video for the track. The video is as stylish as can be: from lux white arm-chairs to expensive cars, to Healy's wild blue hair, matching that of Rome. The bright clip is an obvious parody on boybands' and pop stars' music videos from the first seconds.
More: Camila Cabello is "obsessed" with The 1975, wants to work with them
Released in late August, the collab came to be thanks to No Rome: "I made a demo and then I sent it over to Matty," he told Zane Lowe on Apple Beats 1. "Because we were listening to the stuff that I've been working on recently, I sent him over that track and he also fell in love with it."
Be sure to watch it below.
As you know, The 1975 are currently busy working on their new album, A Brief Inquiry Into Online Relationships. The record is due out November 30, and No Rome is also contributing to the release. We've already got a picture of what the new album is going to sound like. The 1975 had previously dropped four tracks off it. 'Sincerity Is Scary', 'Give Yourself A Try,' 'Love It If We Made It,' and 'TOOTIMETOOTIMETOOTIME.'
What do you think of No Rome's and Matt Healy's music video? Share your thoughts in the comments, and join AlteRock Facebook and Twitter to stay tuned for the latest rock and metal news.