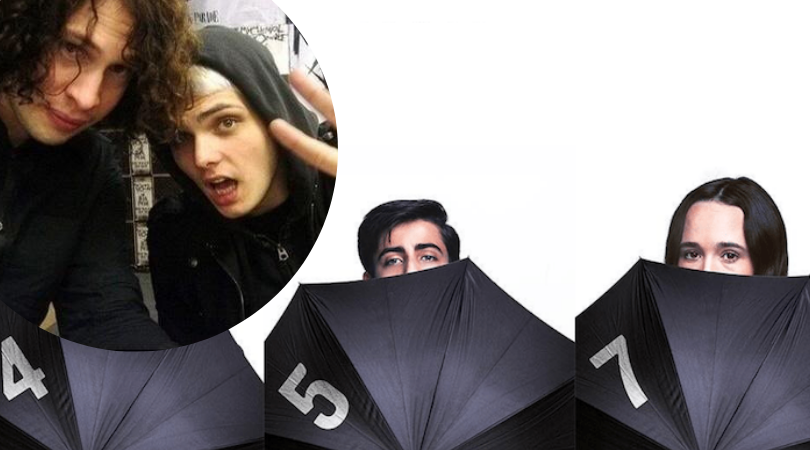 Netflix has released the series soundtrack on Spotify, with two covers by ex-MCR members
February 9, 2019
Just when you have pushed all your My Chemical Romance-era outfits into the dusty corner of your wardrobe and almost forgot what Gerard Way's voice sounds like, the former MCR members are back to bring back the heartwarming memories of good old my-chemical-romance times!
Netflix has released the official soundtrack for Gerard Way-inspired series 'The Umbrella Academy' (out Feb 15), which features covers of Simon and Garfunkel and the Turtles done by Gerard Way and Ray Toro.
'The Umbrella Academy' is a screen adaptation of comics written by ex-My Chemical Romance singer. It was widely rumoured in July 2017 that 'The Umbrella Academy' could become a full-fledged Netflix series. But at that time it seemed as if from the realm of impossible.
However, Netflix soon confirmed the series. And not only was the script inspired by Way's comics, but even the soundtrack has MCR's presence on it. Last month, on Jan 24, Way and Toro unveiled the powerful cover of Simon and Garfunkel's 'A Hazy Shade Of Winter', which you simply must listen to (or listen to again) below:
The first cover was followed by MCR's take on the legendary track 'Happy Together' by the Turtles. As much as we would wish more fresh stuff from the former My Chemical Romance members, these two covers are the only two Way/Toro tracks on the disc. The other artists on the album are, for instance, Queen, the Doors (of course, with the songs you all already know) and Radiohead.
Listen to all the tracks in the Spotify player below!
Check out 'The Umbrella Academy' trailer below, and get even more stoked because the series has already been confirmed for 10 episodes (sounds good, no?). Besides, Way didn't just submit his ideas from comics to Netflix and recorded a couple of covers. He's got the role of the co-executive producer of the series, as Deadline reports (via AltPress). So the series lives and breathes Gerard Way's graphic world. Enjoy!
Be the first to leave your comments and stay tuned with AlteRock Facebook and Twitter to never miss on the news about your favorite alternative music!