"You end up having a great time despite the sinister factor", says Ash Costello about their most professionally produced music video to date
New Years Day have invested a lot into the production of their new music video for 'Come For Me' and called a lot of their music colleagues to take part in the filming. Was it worth the effort? Absolutely!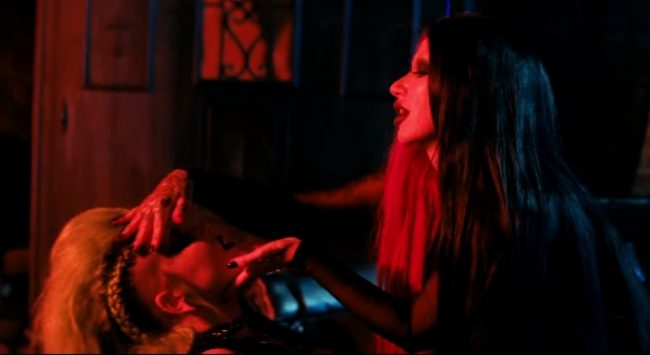 "We are so proud of our video for 'Come For Me' – it's definitely the largest production to date for a music video", says frontwoman Ash Costello happily. The clip was directed by Robyn August, and it shows "Ash" mercilessly taking lives of the Hex Syndicate gang.
With Halloween coming up, and Quentin Tarantino's latest film hitting the cinema screens, it didn't take the band long to come up with the plot. Among Costello's inspirations were 'From Dusk till Dawn' 'Planet Terror' 'Kill Bill' and 'Pulp Fiction'.
"The concept for this video came to me quickly and felt like a no brainer", tells the vocalist. "I wanted to be completely inspired by some of my favorite Movies that Quinten Tarantino was a part of in some way. COME FOR ME is a heavy and dark song but it's full of fun and life and color. That's what those movies make me feel."
Though classics like that have "gory dark and sinister" atmosphere, Costello shares that Tarantino's movies are "SO fun to watch that you end up having a great time despite the sinister factor. listening to COME FOR ME makes me feel the same way", the singer wrote on Instagram.
Besides New Years Day, the new music video features special guests such as Caity Babs (SiriusXM Octane), Spencer Charnas (Ice Nine Kills), Trey Xavier (Gear Gods & In Virtue), Dre Ronayne (Alt Model, Cosplayer & Makeup Artist), Lex (3TEETH), Juan of the Dead (Body Count), Nishad & Spencer (The Offering) and Alex Nasla (Witherfall).
And it wouldn't be New Years Day, if they hadn't launched a Halloween-themed tour. This time they'll be supporting In This Moment on a massive tour, along with Motionless In White (via AltPress). To make it sound really sinister, the tour was titled the Mother's House of Horror Traveling All Hallow's Eve Masquerade. Tickets are on sale here.
Happy masquerade, everyone! And have fun watching dark and colorful 'Come For Me' video! Don't miss on the news about your favorite rock bands – join us on AlteRock Facebook and AlteRock Twitter!