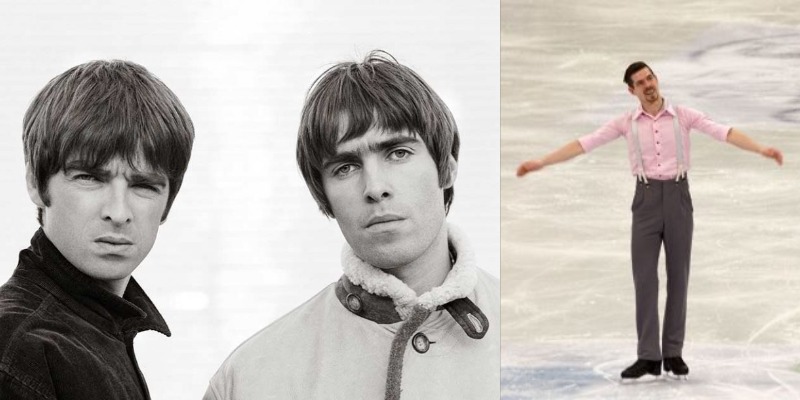 These Olympic Games in PyeongChang are the first to allow single figure skaters to perform to music with lyrics, and the participants are stretching their imagination…
February 12, 2018
As the figure skating competition set off on Feb 9 at Olympic Games in PyeongChang, South Korea, many skaters took a more creative approach to choosing the music to perform to and choreographing their routines. The thing is, starting with these Olympics, single figure skaters are allowed to perform to music containing lyrics, not only to instrumental tracks.
As a result, we've already seen an ice routine to Ed Sheeran's 'Make It Rain' and other well-known songs, but the internet reactions got split to dimetrically opposed, when German figure skater Paul Fentz chose to skate to Paul Anka's jazz/swing cover of Oasis' all-time number one hit 'Wonderwall'.
The swing rendition of 'Wonderwall' is a version by singer Paul Anka, featured on 2005 Rock Swings album. While the lyrics stay the same, the tune and delivery are tremendously different, so the song is only recognizable thanks to the well-known lines from the Oasis' hit. Needless to say, it stirred mixed reactions on social networks (via NME). See some of the popular tweets here:
I was just about to be like "who really cares maybe I won't watch the Olympics" but then I turned on the tv and THIS DUDE IS WEARING LAVENDER SUSPENDERS ICE SKATING TO A SWING JAZZ VERSION OF WONDERWALL

— Megan Crepeau (@crepeau) 9 февраля 2018 г.
Someone at the Olympics is skating to a Harry Connick-like version of Wonderwall and even if you hate Oasis this is a crime.

— Sigh Hersh (@Ugarles) 9 февраля 2018 г.
Play this version of Wonderwall in the lobby of my funeral.

— Jesse Marshall (@jmarshfof) 9 февраля 2018 г.
IM HAVIG AN ANEURYSM WHY WOULD THEY USE A JAZZ COVER OF WONDERWALL pic.twitter.com/uKNGifn7RS

— jackie (@emptycIub) 9 февраля 2018 г.

Whatever the reactions were, Fentz didn't do too well in his 'Wonderwall' performance: the figure skater fell twice during the men's single short program, not making it easier for his German team to get a high score. The videos from the current Olympics aren't available yet but you can check out how Fentz performed with the same 'Wonderwall' routine at the European Championship:
https://youtu.be/nTBtRutT2LE
But there's one more rock-inspired figure skating performance you might have missed last year. French pair Vanessa James and Morgan Ciprès did an outstanding job skating to the touching Disturbed cover for 'The Sound Of Silence' at the ISU European Figure Skating Championships in Tokyo, Japan, which opened them the doors to represent France in the Olympics.
In Pyeongchang Winter Olympic Games 2018 the French pair only got the 6th score. But their performance to 'The Sound Of Silence' was surely one of the most memorable and moving. See it below:
https://youtu.be/xKkVETYgTfs
Be the first to leave your comments and stay tuned with AlteRock Facebook and Twitter to never miss on the news about your favorite alternative music!