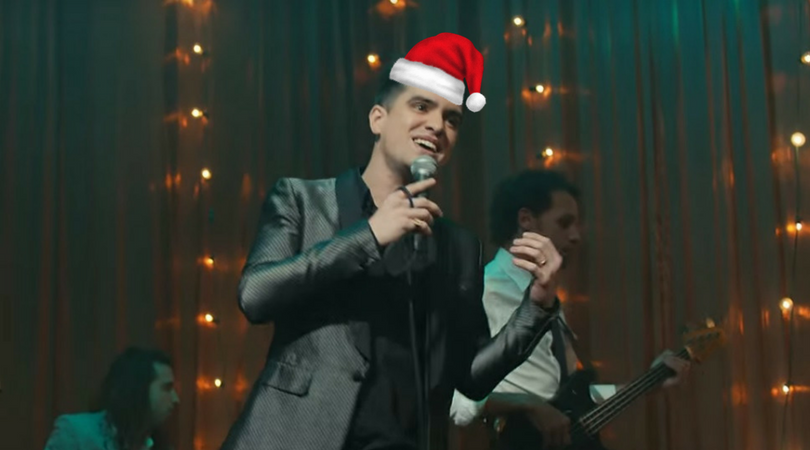 Brendon Urie's festive new track is all you need for proper Christmas spirit
December 20, 2017
"So to end this year right, here's a little holiday jam I wrote," Brendon Urie wrote to his fans on Twitter, introducing his amazing new festive song 'Feels Like Christmas'. And your hearts are guaranteed to melt with the very first notes of this jolly holiday track. You'll be crazy not to give it a listen below!
It would be an understatement to say 2017 was a good year for Panic! At The Disco and their frontman. It was a mindblowing year for Urie, all the way from spring performances on Broadway in 'Kinky Boots' to an unforgettable, extremely successful Death Of A Bachelor tour and a recent live album.
Watch: Brendon Urie struts through New York subway before 'Kinky Boots' performance
Panic! At The Disco also posted a heartfelt message to his listeners on Twitter, thanking them for a great year 2017:
[quote align="center" color="#COLOR_CODE"]"Thank you all for making this year my favorite so far. Through the hard times and the beautiful moments, I'm glad we're always there to lift each other up. I'm so excited for the new year and what's to come."[/quote]
Check out the new Christmas track from Urie below and start dancing around your Christmas tree to its festive vibe.
More: Brendon Urie performs 'It Remembers' on stage with Every Time I Die
So to end this year right, here's a little holiday jam I wrote: https://t.co/ZdvH0XowgQ I hope you enjoy it as much as I did making it. pic.twitter.com/ClsBryp6N0

— Panic! At The Disco (@PanicAtTheDisco) December 20, 2017
Do you like what we're doing? If so, help us grow by sharing the article – this way we can keep providing you latest news and fun interviews with your favorite bands! Stay tuned with AlteRock Facebook and Twitter to never miss on the news about your favorite alternative music!