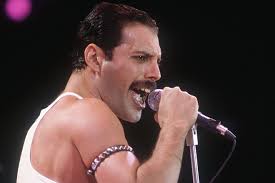 If Bohemian Rhapsody movie has turned your world around, you just can't miss the ceremony
February 18, 2019
The effect of biopic Bohemian Rhapsody in the cinemas all over the world has been mind-boggling, and Rami Malek, who played Freddie Mercury, skyrocketed to media headlines and covers. The moving film made us all re-listen to Queen's hits and re-watch their epic concert at Live Aid of July 13, 1985. Not surprising, Oscars have invited Queen members to open this year's most anticipated awards ceremony. Oscars 2019 will be on fire!
The ceremony will take place on Sun, Feb 24, and just like on recent Queen world tours, the vocals will be delivered by Adam Lambert. Lambert and Queen revealed the news by posting the same video almost simultaneously on Twitter, saying they "will rock" the Oscars. Check out Queen's one:
Queen + @adamlambert will ROCK YOU! 👞👞 👏

Feb 24th. 5pm PST. #Oscars #Oscars2019@TheAcademy pic.twitter.com/gpyytIeBdU

— Queen (@QueenWillRock) February 18, 2019
Bohemian Rhapsody is nominated in many awards this year, including Best Picture, as well as Rami Malek in Best Actor category. Interestingly, many fans tweeted back that they would love to see not Lambert but Malek, the actor, on stage "in full Freddie costume". Or both, for what it's worth. Doesn't it seem like an awesome idea Oscars shall consider?
Meanwhile, Bohemian Rhapsody has been marching triumphally from one award ceremony to the other. At the Golden Globes, the film was nominated in only two categories but won both awards! Similarly to the Academy nods, Malek was nominated for Best Actor and the film itself for Best Motion Picture—Drama in Golden Globes.
Who will you be happy to see Queen with on the Oscar stage? Adam Lambert, the runner-up of American Idol in 2009, touring with Queen for several years now or the young talent, actor Rami Malek? Let's chat in the comment section below! Share the big news – repost the article for your friends!
Is this the real life?
Is this just fantasy?
We welcome @QueenWillRock and @adamlambert to this year's #Oscars!https://t.co/7uDf42FbjJ

— The Academy (@TheAcademy) February 18, 2019
Be the first to leave your comments and stay tuned with Alterock Facebook and Twitter to never miss on the news about your favorite alternative music!