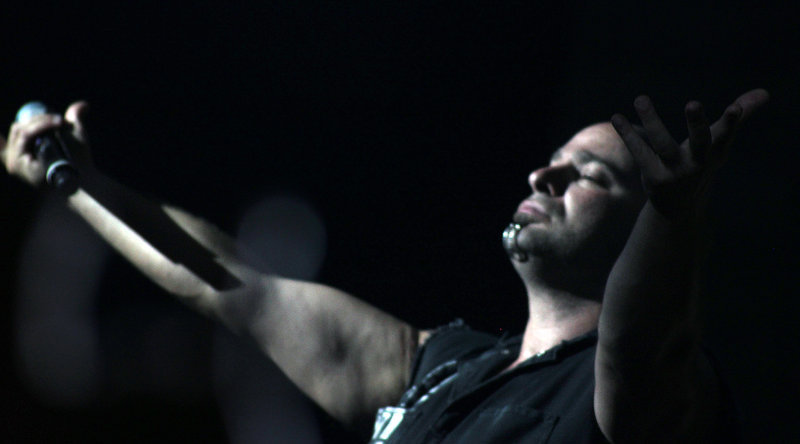 Triple degree, rebellious behavior at school like throwing a kid out of a second-storey window or setting fire to the rabbi's van… There's plenty of stuff you didn't know about David Draiman. Let's go!
The vocalist's full name is David Michael Draiman.
He was born in Brooklyn, New York.
He attended Ida Crown Jewish Academy in Chicago and spent the 1991-1992 academic year in Jerusalem.
During his freshman year at Wisconsin Institute Draiman was asked to leave after they'd found GQ magazine under his pillow. The actual pressing reason was his rebellious behavior, including «chucking a kid (who hit him) out of a second-storey window» and «blowing up the rabbi's van» (via Loudwire).
Draiman triple majored in Business Administration, Philosophy, and Political Science at Loyola University Chicago.
Before singing for Disturbed, he also considered going to law school but «couldn't come to terms with defending people that I knew were guilty».
During his university years, Draiman also worked in phone sales, as a bank teller and as assistant administrator in a nursery home.
The singer auditioned for the band called Brawl, after their last singer quit. Since 1993 we know Brawl as Disturbed. (A smart name change, isn't it?)
Disturbed' second studio album Believe Draiman sings about the death of his grandfather, who was a Holocaust survivor. (By the way, when Draiman became a metal musician, his grandfather cut off contact.)
When Draiman was 16, his girlfriend committed a suicide. The song 'Inside the Fire' is dedicated to her.
The first record he bought was KISS's 'Destroyer'.
Draiman sang on the Queen of and the Damned soundtrack, a 2002′ adaptation of Anne Rice's series The Vampire Chronicles. The album includes 'Down With the Sickness' and Draiman's solo track 'Forsaken', as well as soundtracks by the singers of Korn, Static-X, Orgy, Linkin Park and Marilyn Manson.
In 2011, Draiman's father Yj Draiman was running for Mayor of Los Angeles.
He had a surgery to repair the damaged valve causing acid spill on his vocal cords. Unfortunately, during the Asylum record cycle the repair job raptured.
Disturbed spent half a million dollars on 'Prayer' video, which companies then banned, claiming it was reminding September 11 too much. The band refused to edit the video.
Draiman tends to conservative side but is socially and culturally liberal. He says: «I don't agree with the fiscal policies of the Democrats, but I certainly don't agree with the right-wing craziness of the Republicans.»
The vocalist's wife is Lena Yada-Draiman, an American model, actress and professional wrestler known for WWE.
On September 12, 2013, David and Lena's son, Samuel Bear Isamu Draiman, was born, following 23 hours of labor.
Draiman quit Twitter, saying social media «was taking away from my marriage, it was taking away from my time with my kid… I'm done being anybody's punching bag.» He had been continuously trolled regarding his views on Israel and its conflict with the Palestinians.
Disturbed' fans are some of the most loyal, and for a reason. Draiman calls his audience at concerts 'my brothers, my sisters, my blood'.
Be the first to leave your comments and stay tuned with Alterock Facebook and Twitter to never miss on the news about your favorite alternative music!