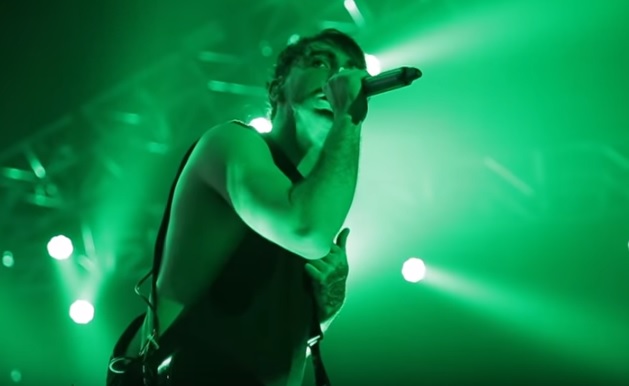 Gaskarth says they «need to figure out what's next and what All Time Low should be doing going forward"
January 4, 2019
Year 2018 has proved very energetic and eventful for All Time Low. From the release of their singles 'Birthday' and 'Everything Is Fine' to a co-headlining tour with Dashboard Confessional, All Time Low haven't had time to stop and think a bit.
The band's frontman Alex Gaskarth has just talked with Kerrang! and revealed in the interview that it's too soon to start thinking about the next record — they first need to have a proper rest and think what they'd like to do next. Here is what the singer said looking back at 2018 and what's coming in year 2019:
"For the last couple of records, we've done two-year-long cycles. With Last Young Renegade, it was winding down in the first half of 2018, but then we decided to put out 'Birthday' and 'Everything Is Fine,' which revitalized that campaign and led to more dates on the calendar. That meant another six months was tacked on to what had already been a full album cycle," the singer told Kerrang!. "For us, it feels too soon to be properly thinking about the next record—I need to sleep for at least a fortnight straight! We need to figure out what's next and what All Time Low should be doing going forward."
Gaskarth, however, went on to say that he himself «won't be stepping back from music» this year. He's been dreaming for a while now to collaborate with other bands, and that's a real perspective in 2019:
"I definitely won't be stepping back from music, that's for sure," he shared with Kerrang! "I'm looking to do more outside writing for other bands. I've been passionate about that for years now, but with All Time Low being what it is, it's hard to find the time I need to dedicate to it. I'll be making myself available in 2019 to anyone who wants to write with me, so people should definitely keep an eye out for what I'm up to. There'll be stuff going on."
But if you think you won't see All Time Low live in 2019 since they're taking a break, not really. The band has been locked to play alongside NOFX, New Found Glory, Waterparks, Story Of The Year and more at Slam Dunk Festival in May 2019.
To other ATL news, the band's track 'Dear Maria, Count Me In' turned out to be the best selling song for Hopeless Records, closely followed by Avenged Sevenfold's Waking The Fallen. Celebrating 25 years in business, the label's Louis Posen says:
"So Wrong, It's Right has "Dear Maria" and that's our best selling song and is platinum in the US," Posen says. "The reason I picked Future Hearts is that it's our only record to debut at number one in the US and UK."
Remind yourself of 'Dear Maria, Count Me In' below.