All Time Low are surely up to something big — watch their new teaser video
February 13, 2017
Alex Gaskarth and co. are keeping their fans all in wait! Today they've uploaded new profile images to their social media accounts, revealing their renewed logo, and posted a short teaser video, which you can see below.
Watch: ALL TIME LOW perform acoustic cover for Selena Gomez's 'Hands To Myself'
Most fans believe the band is up to putting out new music and most probably a new album soon. A good evidence to that is that yesterday All Time Low changed their social media background to a plain one, which is something many bands use these days to get fans and media to talk about their upcoming new music.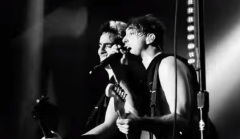 Changing the logo is another sign that it's unlikely to be just a standalone single. Finally, the time is right for All Time Low to go back to the studio and work on the follow-up to their latest album, Future Hearts, released on April 3, 2015. It's been almost two years since the previous record came out, so there's actually little room for mistake about what's on the band's mind.
But All Time Low wouldn't be themselves if they hadn't come up with some never-before-seen teasing trick. The band has renewed their official website, which is now plain background with only an email form for fans to subscribe to something. There are no explanations what fans are subscribing for, and the only button says "join."
Have you already joined? What do you think All Time Low are offering you to join? Watch the teaser and be sure to leave your comments below. Stay tuned with AlteRock Facebook and Twitter to never miss on the news about your favorite alternative music!
https://t.co/MhctvHFMmZ pic.twitter.com/vsfoROzUsp

— All Time Low (@AllTimeLow) February 13, 2017