The new release is due out May 18 via Loma Vista Recordings
Ghost are ready for experiments. Instead of a traditional all-Ghost album, the band is releasing a new Phantomime EP with nine cover tracks, be it interpretations of heavy metal or iconic pop songs.
The stakes are high for Phantomime EP, as Ghost's previous release Impera turned out mega-successful, resulting in multiple awards, including iHeart Radio Music Awards' one for Best Rock Album of the year. The new release features the band's covers of songs by Iron Maiden, Genesis, Television, The Stranglers, and even Tina Turner.
More: GHOST end show after fan collapses in the pit and later dies
To introduce the new EP, Ghost launched the official music video for 'Jesus He Knows Me'. The visuals were directed by Alex Ross Perry, and as described in the press relase, «intended to illustrate how one's beauty is another one's blasphemy». Check out Phantomime EP artwork and the official video for 'Jesus He Knows Me' below: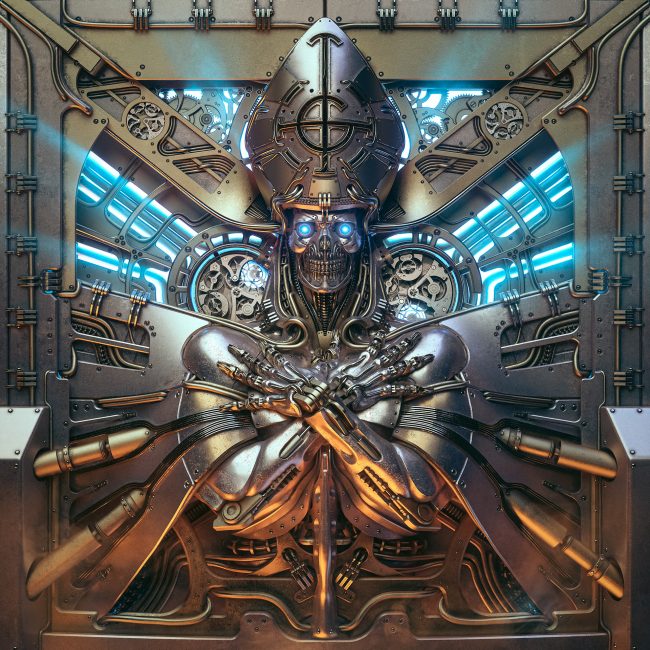 Phantomime EP Tracklist:
See No Evil (Television)
Jesus He Knows Me (Genesis)
Hanging Around (The Stranglers)
Phantom of the Opera (Iron Maiden)
We Don't Need Another Hero (Thunderdome) (Tina Turner)
On top of the release and the fresh single, Ghost keep entertaining fans with their web journal. The new «webisode» they've posted under the title «Chapter 17: Nap Time» can be watched here:
This spring and summer and fall are gig-rich for Ghost, including festival and headline shows in Europe in May and June. You can catch the band at Primavera Sound 2023, along with Blur, Depeche Mode and Halsey, or head for Sweden Rock Festival 2023, where they'll share the stage with legendary Def Leppard, Iron Maiden and Mötley Crüe. In August, Ghost are returning to North America with Amon Amarth as a special guest. Their American tour, titled Re-Imperatour, kicks off Aug 2 in Concord, California.
GHOST May/June 2023 Shows:
21.05.2023 — Zenith Rouen, Le Grand-Quevilly, France
22.05.2023 — Halle Tony Garnier, Lyon, France
23.05.2023 — Zénith Toulouse Metropole, Toulouse, France
25.05.2023 — Le Liberté, Rennes, France
26.05.2023 — Zénith Arena de Lille, Lille, France
28.05.2023 — Zénith de Strasbourg, Strasbourg, France
29.05.2023 — Ippodromo SNAI San Siro, Milan, Italy
30.05.2023 — Palais Nikaia, Nice, France
01.06.2023 — Primavera Sound Festival, Barcelona, Spain
03.06.2023 — Zenith Nantes Metropole, Nantes, France
04.06.2023 — AFAS Live, Amsterdam, Netherlands
06.06.2023 — Velodrom, Berlin, Germany
07.06.2023 — Mystic Festival, Gdansk, Poland
07.06.2023 — Download Festival, Castle Donington, UK
12.06.2023 — Rockhal, Esch Sur Alzette, Luxembourg
13.06.2023 — RuhrCongress, Bochum, Germany
14.06.2023 — Copenhell, Copenhagen, Denmark
15.06.2023 — Graspop Metal Meeting. Dessel, Belgium
19.06.2023 — Barclays Arena, Hamburg, Germany
20.06.2023 — Ratiopharm Arena, Neu-Ulm, Germany
21.06.2023 -Tons Of Rock, Oslo, Norway
22.06.2023 — Basinfire, Spalene Porici, Czech Republic
25.06.2023 — AthensRock Festival, Athens, Greece
28.06.2023 — Resurrection Fest, Viveiro, Spain
29.06.2023 — Provinssi Festival, Seinäjoki, Finland
30.06.2023 — Tuska Festival, Helsinki, Finland
Don't miss out on the news about your favorite rock bands — join us on AlteRock Facebook and AlteRock Twitter!