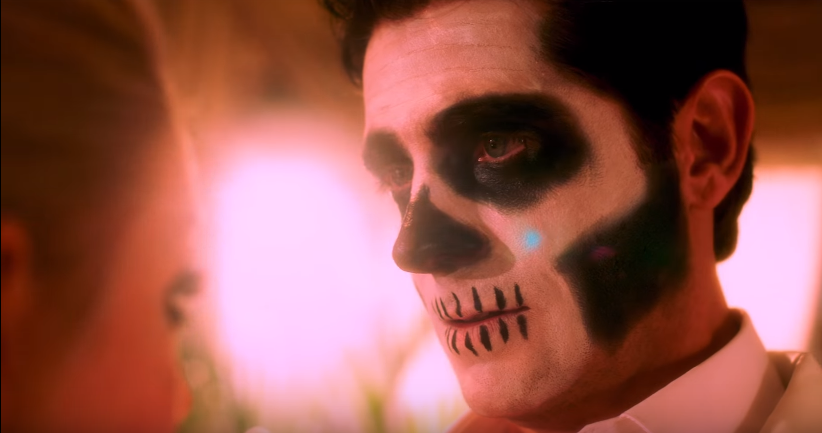 Ghost are currently preparing for a headlining North American tour
October 18, 2018
The Grammy-winning mysterious Swedish rockers Ghost have released a truly cinematic music video for their hit, 'Dance Macabre.' Its visuals very much remind of Muse's music video 'Thought Contagion', as the two naive guys try to sneak into a private party… which turns out to be a macabre vampire-filled night. Will the young men stay alive? Check out the video till the end below.
More: Ghost end show after fan collapses in the pit and later dies
The song is part of Ghost's latest record, Prequelle. The band are now packing their stuff to hit the road for an extensive tour, A Pale Tour Named Death across North America. Get your tickets here.
Ghost's A Pale Tour Named Death Tour Dates:
10/25 – Grand Prairie, TX @ The Theatre at Grand Prairie
10/26 – Tulsa, OK @ Cox Business Center Ballroom
10/29 – Louisville, KY @ Palace Theatre
10/30 – Indianapolis, IN @ Murat Theatre,
10/31 – Milwaukee, WI @ Riverside Theatre
11/01 – Chicago, IL @ Aragon Ballroom,
11/02 – Peoria, IL @ Peoria Civic Center – Theatre
11/03 – Madison, WI @ The Sylvee
11/04 – Ames, IA @ Stephens Auditorium
11/06 – Omaha, NE @ Orpheum Theatre
11/08 – Albuquerque, NM @ Kiva Auditorium
11/09 – El Paso, TX @ Abraham Chavez Theatre
11/10 – Phoenix, AZ @ Comerica Theatre
11/12 – San Diego, CA @ Spreckels Theatre
11/13 – Sacramento, CA @ Community Center Theatre
11/15 – San Jose, CA @ City National Civic Center
11/16 – Los Angeles, CA @ The Forum
11/17 – Las Vegas, NV @ The Joint – The Hard Rock Hotel
11/19 – Midland, TX @ Wagner Noel Performing Arts Center
11/20 – Austin, TX @ Bass Concert Hall
11/21 – New Orleans, LA @ Orpheum Theatre
11/23 – Orlando, FL @ Dr. Phillips Center for the Performing Arts – Walt Disney Theatre
11/24 – Miami Beach, FL @ The Fillmore at Jackie Gleason Theatre
11/25 – Clearwater, FL @ Ruth Eckerd Hall
11/27 – North Charleston, SC @ North Charleston Performing Arts Center
11/29 – Mobile, AL @ Saenger Theatre
11/30 – Atlanta, GA @ Roxy Theatre
12/01 – Jacksonville, FL @ Florida Theatre
12/02 – Charlotte, NC @ Ovens Auditorium
12/04 – Richmond, VA @ Dominion Energy Center
12/05 – Wilkes-Barre, PA @ F.M. Kirby Center for the Performing Arts
12/07 – Laval, QC @ Place Bell
12/08 – Toronto, ON @ Sony Centre for the Performing Arts
12/10 – Baltimore, MD @ The Hippodrome
12/11 – Upper Darby, PA @ Tower Theatre
12/13 – Albany, NY @ Palace Theater
12/14 – Boston, MA @ Wang Theatre
12/15 – Brooklyn, NY @ Barclays Center