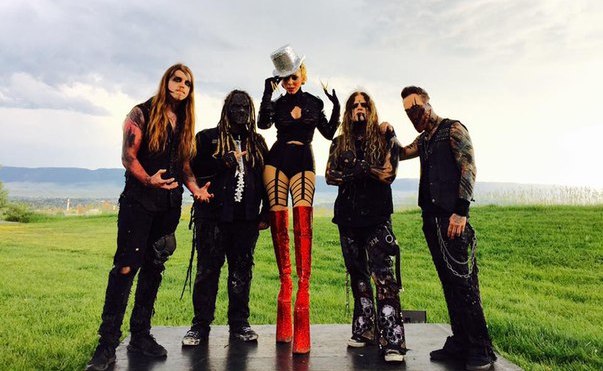 In This Moment have announced headlining Hell Pop tour with Hellyeah across the U.S.
March 28, 2016
This summer In This Moment will travel across the United States on a headlining tour Hell Pop with direct support from Hellyeah. The opening acts for the two high spots will be Shaman's Harvest and Sunflower Dead.
What have In This Moment been up to? The theatrical rock band hasn't been idle: the musicians are currently in the studio working on their next album, the follow-up to 2014's Black Widow. And they are taking it seriously: Maria Brink and Co. have called a renowned producer, Kevin Churko to go at their new material. Kevin previsouly worked with Ozzy Osbourne, Papa Roach, Disturbed and many other famous acts.
Recently the band took to Facebook to post a teaser from the studio, which you can see below.
There's also a lot of touring this year for In This Moment, besides Hell Pop. The band unites forces with Korn and Rob Zombie for the summer tour, kicking off July 17. It's also a busy year for Hellyeah as they will be the headliners on We're All In This Together tour and share the stage with Escape the Fate, New Years Day and From Ashes to New.
Read more: In This Moment Drummer Tom Hane Confirms Leaving the Band
The Hell Pop tour with In This Moment and Hellyeah will start June 18 in Des Moines, Iowa and finish off in Peoria, Ill. on July 12. Tickets go on sale this Friday, April 1, at 10AM ET. Check out the list of the tour dates and locations below.
[fbvideo link=»https://www.facebook.com/officialinthismoment/videos/10156689497765054/» width=»500″ height=»400″ onlyvideo=»1″]
Hell Pop US Tour 2016 (via Loudwire):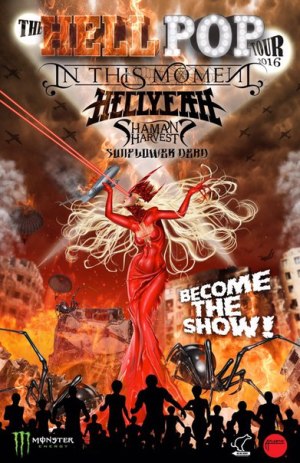 6/18 — Des Moines, Iowa @ 7 Flags Event Center
6/19 — Wichita, Kan. @ The Cotillion
6/21 — Lubbock, Texas @ Lonestar Pavilion
6/22 — Midland, Texas @ La Hacienda Event Center
6/24 — Abilene, Texas @ Abilene Civic Center
6/25 — El Paso, Texas @ Speaking Rock Entertainment Center
6/27 — Corpus Christi, Texas @ Concrete Street Amphitheater
6/29 — Birmingham, Ala. @ Iron City
6/30 — Orlando, Fla. @ Hard Rock Live
7/02 — St. Petersburg, Fla. @ Jannus Live
7/03 — N. Myrtle Beach, S.C. @ House of Blues
7/05 — Atlanta, Ga. @ The Masquerade
7/06 — Raleigh, N.C. @ The Ritz
7/08 — Norfolk, Va. @ The NorVA
7/09 — Inwood, W.V. @ Shiley Acres
7/10 — Asheville, N.C. @ The Orange Peel
7/12 — Peoria, Ill. @ Limelight Event Complex