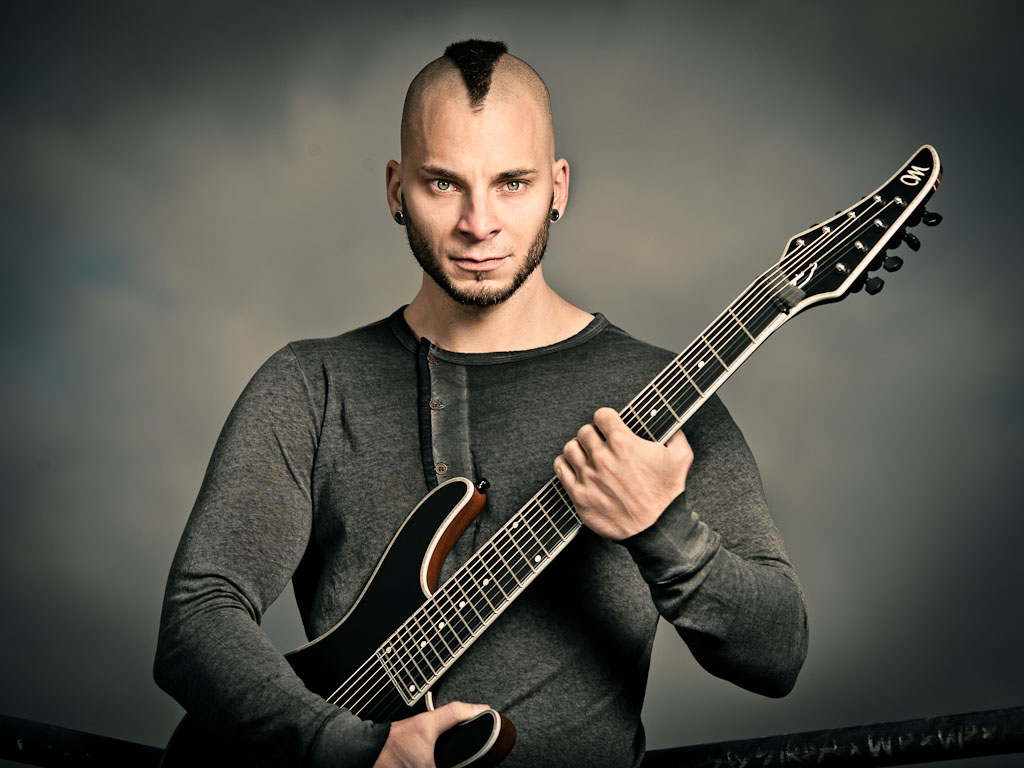 Swedish modern metal group Dead By April are finishing up their European tour in support of the latest album, Worlds Collide, and AlteRock had a chance to chat with the band's frontman, songwriter, guitarist and vocalist, Pontus Hjelm. Pontus was enjoying a little break in between the tour dates, spending the precious days off in his home studio. He revealed how hard it is for him to go back to everyday life once the album is recorded and got to talking about inner beauty, the brutality of social media and problems of self-esteem.
— Do you think Worlds Collide is a more personal and emotional record?
— I think it's more widened, more developed. I think lyric-wise it's maybe deeper, especially songs 'Our Worlds Collide' and 'Crying Over You'.
— Moving from personal to heavier songs on the album, I believe 'This Is My Life' and 'Playing With Fire' are the heaviest tracks on the album. Were they meant to be this heavy from the start?
— I would say they just happened because typically after I write to an album, when I'm done and I look at the whole process of creating the songs and producing, my head just goes blank. I can't really remember how I did it, what I did and why I did it. Because in the process I'm just 100% focused on creating and writing great songs. This is really weird to describe — this is just how I work. So after I write an album, I'm totally drained. It's almost as if it was a dream and I can't really remember the dream. I don't know why it's like that.
— You said you feel drained after recording every album. So how do you usually get your balance back once it's done?
— Yeah, it's really hard. It's almost like coming home from tour. Trying to adjust back to everyday life, which can be challenging, because writing songs takes up all my energy and focus, and it's not good for your marriage, let's put it that way. And when I'm done, I have to get back to the rest of the living, to this world, to reality. It can be depressing but the creative process is so stimulating, so fun and it's the best thing ever. And then you have to cut it and get back to reality. I don't have any tricks: I just slowly have to adjust back, and it's tough.
— The lyrics for 'I Can't Breathe' read «I cannot change who I am». Do you often feel like people take you for someone else and can't tell your stage image from "everyday" you?
— It's kind of like in the song 'What Can I Say'. They're not the same but have similar lyrics. And it's actually about a friend that's been in this relationship: they had so much passion for each other but they kept fighting and fighting. None of them wanted to change, but they still wanted to be together. But they couldn't be together if none of them changed. That's kind of a mindset because I totally believe that you can actually change if you want to change. But no one else can change you. I'm actually one of those who changed myself through therapy. You have to be careful, do it the right way with professional help, and I believe, then it can be done.
— My personal favorite on the album is 'Perfect The Way You Are'. There's something very honest and real about it. Did you have a particular person in mind when writing it?
— It was actually a very specific video on YouTube I came across. In the YouTube feed there was this girl with a lot of acne on her face. When she would post selfies and pictures, people would tell her how ugly she was, what terrible skin she had. Then she would put makeup on to make it all disappear. And then she would post new pictures, but haters said: «You're a fraud! You're not real. This is fake. Why do you put makeup on your face? Are you afraid to show your real face?». No matter what she did, she would get all this hate. That was very moving to me and inspired me to write that song.
In a bigger picture, I think it needs to disappear because that's frightening what message we are sending. You look like you look. There's nothing to it. Especially now, in this digital world with Instagram and Facebook, it's tough. It's the question of self-esteem. Like when someone tells you you're beautiful, you have a choice of believing this person or you can choose not to believe him and look down on yourself.
— The song 'For Every Step' surprises with nostalgic kind of jazz vocals on the background of signature Dead By April music. How did you come up with an idea to call Tommy Körberg on vocals?
— I played this song for Stoffe (he is with us, but he's not in the band now), and he would listen to the song with no vocals and said: «These vocals need Tommy Körberg, buddy». «Yeah, it's a good idea», I said, and we contacted him. He loved it and wanted to do it, so we traveled to Stockholm to record his voice. This guy is an absolute legend here in Sweden. He's an icon. And he recorded this all in just an hour. And I'll let you in on a little secret. We are going to release an acoustic EP, and one of those songs is 'For Every Step'. However, it's going to be me singing it instead. I was very nervous, because I hadn't recorded these vocals. He's an amazing artist and I didn't want to be compared to him. Anyway, it's done and let's see what people say.
— Has it changed how you feel in the role of the band's vocalist since 2014 when you stepped up to the microphone?
Yeah, I bet. It's more pressure. And I have stage fright. I have been suffering since day one. And I could feel that the stage fright was getting a little bit worse. At the same time, I find a lot of joy doing it, and I absolutely love recording vocals. And singing live is also amazing. On this tour I saw so many people singing along to our lyrics. Just to be on stage and watch this… I could even stop singing and just look at the audience singing for me. It's amazing but I still have to deal with stage fright. So it's both good and bad, I guess.
— What are your 3 favorite albums at the moment?
I can make it easy for myself and go with Michael Jackson. That's my old time idol, a role model I guess. Albums Dangerous, Bad and History album.
— Have your music tastes changed a lot over the past few years? In what direction?
— No, they haven't actually. As long as I can remember myself, I've always listened to good songs — what I consider to be good songs. If it's a good song, it's a good song: whether it's a jazz song or Britney Spears or a metal band. If I find that song of a particular artist, and that's a good song for me, I'm going to listen to it. And that sense I have the same taste, rather than focusing on genres.
Do you like what we're doing? If so, help us grow by sharing the article – this way we can keep providing you latest news and fun interviews with your favorite bands! Stay tuned with AlteRock Facebook and Twitter to never miss on the news about your favorite alternative music!
You would like to thank Frank van Liempd and Pontus Hjelm for making this interview possible.