It's everything you've wanted this 2004 song to be
Somebody told me you had a boyfriend
Who looked like a girlfriend…
…are the catchiest lines you keep singing along to, whether or not you're The Killers' fan. The-Grammy-awarded hit, crowned Best Rock Song in 2004, has now transformed into a rock masterpiece, with guitars and energetic vocals in all the right places, thanks to Motionless In White.
Only released a day ago, MIW rock cover of 'Somebody Told Me' has already skyrocketed on YouTube, with about 150K views in just 24 hours.
More: 13 Interesting facts about Chris Motionless (Motionless In White)
"During quarantine, we wanted to continue to see what new projects we could push ourselves to create," vocalist Chris «Motionless» Cerulli says.
"We've always wanted to take a shot at covering an iconic alternative song. 'Somebody Told Me' has always been one of those tracks that oozes pure energy and has crazy good hooks that we felt we could transform into a great rock version."
'Somebody Told Me': Born in lockdown
Cerulli opens up that the rock cover appeared during coronavirus "downtime":
"We are very happy to present this cover as one of the projects birthed out of the COVID downtime and hope it's fun for all fans to check out and tap their feet too," the singer says.
Motionless In White keep on writing new music these days, gathering material for their next album. In the meantime, they released the EP named Another Life/Eternally Yours: Motion Picture Collection. It consists of reworkings of 'Another Life' and 'Eternally Yours', just like its title suggests.
The band hope to drop some new music later this year but don't want to promise even tentative release dates:
"I think we'll be trying to get at least a new song out by the end of the year, but I just hope nobody holds me to that," explains Chris. "We're just gonna keep writing, and what happens happens. It might be early next year. I don't know."
Check out Motionless In White's 'Somebody Told Me' cover and some of fans' comments below.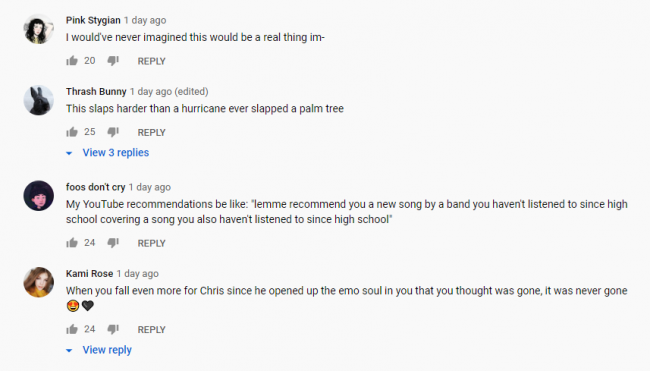 Stay tuned with us on AlteRock Facebook and AlteRock Twitter!