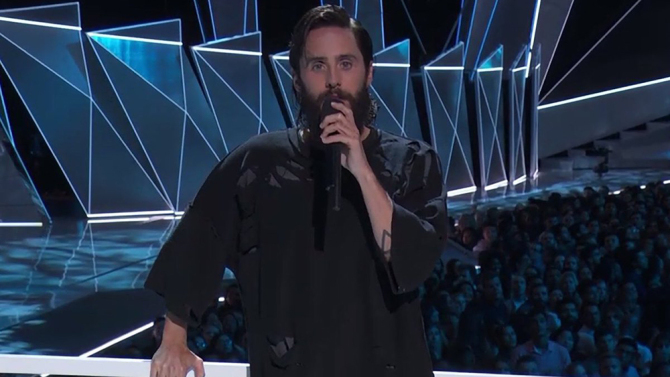 Those who watched VMAs on TV considered it lack of respect to cut off Leto's speech for commercials
August 28, 2017
Last night music fans around the world were glued to their TV screens for 2017′ MTV Video Music Awards. And since Linkin Park's inspiration and the whole generation's idol, Chester Bennington, passed away just a few weeks ago, MTV couldn't do without a proper tribute to the late musician. Unfortunately, there were a couple of moments that outraged the audience watching the ceremony. But first things first.
It was Thirty Seconds To Mars' frontman and famous actor, Jared Leto, who was honoring Chester Bennington with a speech at VMAs, and it was very personal, because the two rockstars toured a lot together and became good friends over the years. Leto finished his touching speech by refering to people who are feeling depressed or lost at the moment: «If there's anyone out there watching this who feel there is no hope, hear me out: You are not alone. Reach out. Share your thoughts. Do not give up.»
You can read and watch his full tribute below, along with Linkin Park's 2010 performance, which MTV showed right after Leto's speech. What you can't see in the video below, though, is that MTV cut off the heartfelt tribute speech in the middle for commercials. This caused an uproar among fans of both Linkin Park and Thirty Seconds To Mars, as well as among rock musicians (see Issues' frontman tweet below, for example).
Another bump had to do with the audience at VMA ceremony. At the end of his tribute Leto had to wait for the audience to stand up to honor Bennington. As the crowd didn't react at first, the singer had to ask the audience more than once to stand up. You won't see it in the officially published tribute video, but the flow of negative social media comments speaks for itself.
Anyway, Leto's speech was really moving and sincere. Check it out and share your thoughts below.
Jared Leto's VMAs speech:
"MTV asked me to come here to say a few words about Chester and the late, great Chris Cornell — two artists that I had the absolute pleasure of touring with. They were close friends with one another, Chester even singing the cover of 'Hallelujah' at Chris' funeral. Chester said of Chris: 'Your voice was joy and pain and anger and forgiveness, love and heartache all wrapped into one.

Just weeks later, Chester was gone. Chester was my friend, as he was to many. When I think about him, Chester, I see his face, which was always smiling. I think about his heart, which he wore on his sleeve," Leto said. "I think how kindly he treated me, my brother and my band. I think about his wife and his six incredible children. I think about his family. I think about his band, who were his brothers. And I remember his voice, at once ferocious and delicate. That voice will live forever.

If there's anyone out there watching this who feel there is no hope, hear me out: You are not alone. Reach out. Share your thoughts. Do not give up."
More: Linkin Park singer 'found hanged after suicide'
Wow. @JaredLeto gave some real talk. Bummer MTV just cut that tribute to Linkin Park short to commercial break, wtf

— LEFTI (@LEFTIMUSIC) August 28, 2017
Are you fucking joking!? You cut off a tribute to a truly talented vocalist and musician! @MTV sorry he didn't play the damn space bar!

— lil rettes (@therettes) August 28, 2017
I can't believe he had to ask everyone twice to stand up and then y'all cut the tribute to commercial! Rest in peace, Chester!

— JoNathan (@JSDrummonds) August 28, 2017
Share your thoughts in the comments, and join AlteRock Facebook and Twitter to stay tuned for rock and metal news.