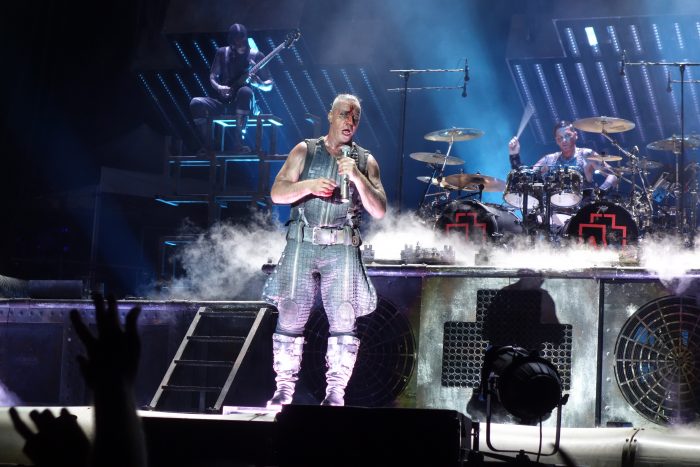 Guitarist Paul Landers has revealed important details about Rammstein's upcoming seventh studio album
October 4, 2018
Oh yes, you can believe your eyes. After their 2009′ album Liebe Ist Für Alle Da and a long hiatus, followed by a few live shows over but no new material, Rammstein are back on track! They have finally revealed the expected release date of their next album!
This summer the band shared they were in the "final phase" of production of the new record, according to Metal Hammer. Now, guitarist Paul Landers went a little further and offered some details about the upcoming, untitled album.
Landers told Music Radar that the album is aimed to be released early next year. "Right now, it looks like this new record will be coming out next spring, and what we've been mainly doing is playing together in a circle, with all the guys in one room," he shared.
The band members used to work on production of their parts separately and then put them all together but this time around Rammstein are all gathering in one studio, and the musicians seem to be happy with this new production approach.
"It hasn't been like a pre-production where each member is alone," Landers reveals. "It's been more of an all-together kind of thing. We liked the sound of it so much that we've decided to make the record more of a band-unit recording than a bunch of guys playing separately."
The guitarist believes that this way the album shall transmit more energy, similar to the feel at their live shows. "We'll have to see how it all ends up being on the record, but the basic idea is you are hearing a band playing," Landers says. "You could say it's inspired by our live sound."
In March, Rammstein's guitarist Richard Kruspe unveiled that they had "35 songs almost finished" for the new, yet untitled, album. You could see it for yourself in the promo video for their live Blu-ray/DVD Rammstein Paris.
Since Liebe Ist Für Alle Da fans haven't heard any new studio material from their idols, so now we couldn't be more excited and can't wait to get more details soon. Be the first to leave your comments and stay tuned with AlteRock Facebook and Twitter to never miss on the news about your favorite alternative music!
Photo by Julien Damelet — Own work, CC BY-SA 4.0