«I'm f—ing furious,» The 1975 frontman told the Malaysian audience
The straightforwardness and rebellious nature of The 1975 singer Matty Healy wasn't welcomed by Malaysian government. The British band was banned from performing in Malaysia after their Friday festival set, where frontman Matty Healy criticized the country's anti-LGBTQ laws and kissed his bandmate, bassist Ross MacDonald.
The remainder of The Good Vibes Festival also got cancelled, even though it was supposed to go on over the weekend with several more acts. The Festival management wrote in a statement that they «deeply regret» the cancelation of the festival due to the «controversial conduct and remarks made by UK artist Matty Healy from the band 1975.»
More: THE 1975 explore work of imagination in nostalgic, French-poetry-flavoured track 'Part of the Band'
Malaysia's Communications Minister Fahmi Fadzil categorically said:
During the performance, Healy commented he was already «f—ing furious» with the country's anti-LGBTQ laws and requirements. «I do not see the point of inviting The 1975 to a country and then telling us who we can have sex with,» he said on stage on Friday. The vocalist even added it was a «mistake» to book the Kuala Lumpur show. «I wasn't looking into it,» said Healy.
After this uncompromising speech, Healy kissed MacDonald. The act immediately landed on social media and was considered a slap in the face by the Malaysian goverment. Soon afterwards Healy left the stage with the words: «All right, we've got to go. We just got banned from Kuala Lumpur, I'll see you later.»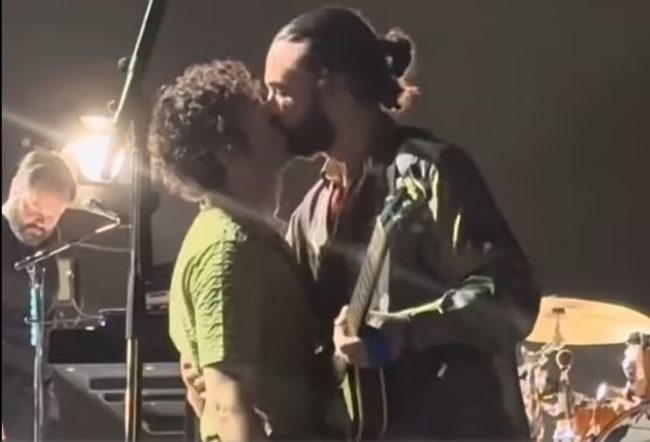 More: ASKING ALEXANDRIA announce next album Where Do We Go From Here?, launch new lyric video
Instead of trying to smooth out the edges later on, Healy went on to joke about the ban on his Instagram and wrote: «Ok well why don't you try and not make out with Ross for 20 years. Not as easy as it looks.»
It's not the first time The 1965 vocalist challenges the heads of the countries, which aren't welcoming LGBTQ+. He was similarly criticized for kissing a male fan during their set in the United Arab Emirates in 2019, according to Reuters.
We wonder what Healy's on/off girlfriend Taylor Swift thinks of the Malaysian ban of The 1975. According to The Sun's latest news, Swift and Healy are back on, «arranging time together in between tour dates and talking all the time. He's utterly smitten and it seems to be mutual." The two are denying multiple comments and photos of them caught together in various locations and at shows, emphasizing: "They are absolutely not together and aren't even in contact anymore».