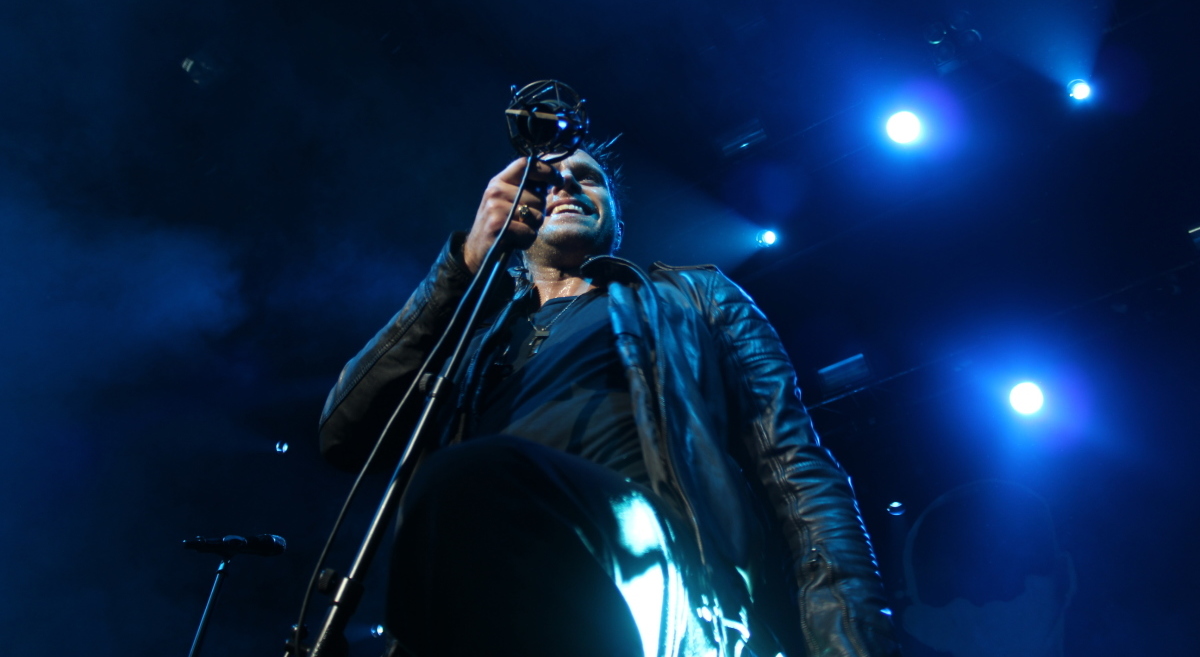 Bassist Brad Walst sat down with us to share fresh tour impressions, talk about future plans and whether there is a possibility of sharing the stage with Saint Asonia
January 26, 2016
A gloomy winter day with snow melting all around and huge puddles on the sidewalks, making people jump every few seconds of the way. Large lumps of ice falling from the roofs and threatening to land on someone's head. Nevertheless, one and a half thousand people are waiting patiently in a line, which has stretched out for three blocks from the doors of Palladium, a modern concert hall in the heart of Latvia's capital, Riga. A black-and-white marquee, reminding that of an old movie theater, reads "Three Days Grace 01/26". While the rest of the band is warming up backstage, we sat down with bassist Brad Walst to talk about the band's tour impressions, the gifts they usually get from fans, their plans after the tour and if there is a remote possibility of Three Days Grace sharing the stage with Saint Asonia one day…
It's a grey rainy day today with a lot of snow lying around. Is a similar to what it's like in Canada right now?
It is. I think back home in Canada it's pretty cold, it's like – 28 or something. We have pretty harsh winters so it's okay. We're heading to Russia so it will be really cold there.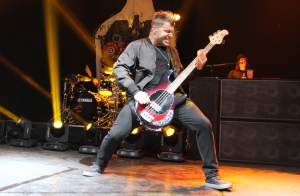 It will be your second Russian tour and I heard you were blown away by the first one.
Oh yes, it was absolutely fantastic! The fans were amazing. We are excited about it. It's going to be good.
You've been touring Eastern Europe for quite a while now. When you move from a place to a place, does it feel like it's all the same?
No, no. I was talking about this the other day with one friend: Canada is so big and when you travel across Canada, except for the French part, it's mostly the same. The same culture. You know, Europe is so vastly different, every country is so different. It's really cool to see different countries and different fans every day.
I have noticed that you are the one who gives a lot of interviews. Do you feel like you're a front figure, speaking for the band these days?
No, we split it up. We share the duties. I don't even consider myself a speaker.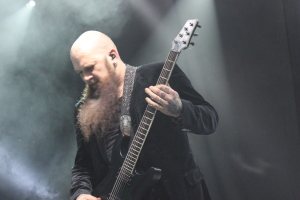 At the latest Loudwire awards you were called the Best Rock Band of 2015. Was it something that you were surprised by?
That's a pretty cool award because it is voted by the fans. It's nice to be recognized still to this day as one of the best, it's pretty awesome.
And if you personally were to choose the best rock band of 2015, who stood out for you last year?
For me it was Bring Me The Horizon. I really like their record a lot. I think it was really innovative and really different.
Your last album, Human, was released three years after the previous one, and it's becoming a kind of your "regime": three years – one album, three years – the next one. Will about the next record?
I think it's going to be sooner. After this tour we're going to take a break, because we've been touring really hard, we are a little bit tired. So we need to go home. Then we will get back into the studio, hopefully this year, maybe in the Fall or something, and start writing again. I think by 2017 we should have something ready to go.
And from current album, Human, are you planning to release any other single?
I don't think so, no. Just because we did it a little differently with this album: we put out 'Painkiller' way before we released the record. That's something we've never done before. But we thought, with Matt being a new singer, it was a song which was already recorded, so let's just put it out there and see what happens. And it was a great success; we were very fortunate.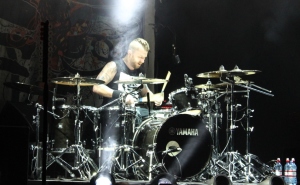 Last time I saw you live it was in 2006 at in Philadelphia, when you performed with Staind. Do you think you have changed a lot as a person over those ten years?
I sure changed. I think we evolve as people. In 2006 we just started out. We did a lot of shows with Stained around America. We probably partied a lot more back then. But you learn what to do and what not to do. I don't think we've changed as people though, that's why we're still together.
And ten years ago, could you imagine you would be in the place you're in right now as a band?
No way. We didn't write a project to be anything. We got lucky with our first songs; people liked them and kept liking them. That's really a blessing. We're really humble, we feel very grateful.
As to your fans in Eastern Europe, which of your songs get the best response from the crowd?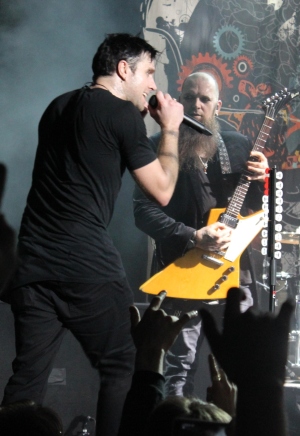 It's funny, you know, because obviously we have a lot of hits from five years ago, ten years ago, but our new record has been really well received. And when people hear the new songs they're like, oh my god. 'Painkiller' is a big one; people love it. It's pretty awesome because it's a really big record for us that has established that we are still Three Days Grace and we are here for a long time.
Fans give you a lot of gifts. Which are the most common gifts you get from your fans?
When we go to Russia we get a lot of vodka and chocolate. Last time in Russia Matt got this weird doll: it had human hair, and looked exactly like him. That was a weird one but pretty cool. It's amazing, all the gifts people give us. And there's a lot of art in Eastern Europe; there's a lot of really great young artists. They draw these fantastic pictures.
Is there anything your fans give to you all the time but you're like, "oh no, not again!", because you never drink it, never eat it or will never use it?
Oh, no, no. We keep everything. Well, we drink the vodka (laughs).
…and the chocolate stays?
No, we eat the chocolate (laughs).
What was the funniest poster you've ever seen in the crowd?
Oh man! That's a good question. For a couple of years after Matt joined there was all these billboards, all these posters in the crowd. Like last night there was a huge flag that said something like: "We are here with you. A thousand voices. We love you Matt". It's really cool. When you see all that stuff, it humbles you.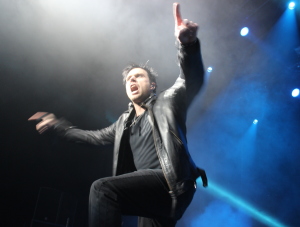 Is your fans' attention sometimes too much for you? Do you have any real stalkers?
No, we've been pretty fortunate with that I guess. We have a lot of great superfans that show up at every show, especially in America, but they're very respectful.
Which Three Days Grace songs are your favorites to play?
Right now I love playing 'I Am Machine'. It's one of my favorites. And 'Riot' probably. The crowd loves 'Riot', it's always a favorite; people go crazy.
Do you see it, maybe as a remote possibility, that one day you will share the stage with Saint Asonia?
I doubt it because Adam plays some of our songs, that's kind of weird. But you never know. Maybe there's going to be a festival and we'll be on one stage.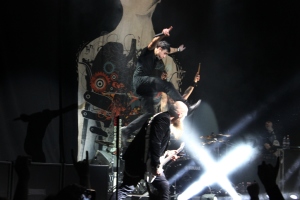 It feels that with time it's getting better between you guys. Do you stay in touch?
Yeah, we chat, we text each other. You know, it is what it is, and for us it's been the busiest three years of our lives. Last year you were on the road for nine months; it was a big year for us. And Adam is doing his thing. The past is the past, right?
What will you personally do as soon as you're finished with touring this year?
I don't know what I'll do. I'll go crazy. I live out in the country, there's a lot of wild life, and I have a bunch of acres. And I have a family, three sons, so I'll be with my family and try to get back some of the time that I've missed.
Of course, they've missed you so much. Thank you for the interview and have a great show!
Thank you!
Share your thoughts in the comments, and join Alterock Facebook and Twitter to always be in the know about your favorite rock bands!
Posted on February 2, 2016
Interview: Tatiana Vinichenko
Photos: AlteRock
We are grateful to LTips agency for helping us with the organization of this interview.