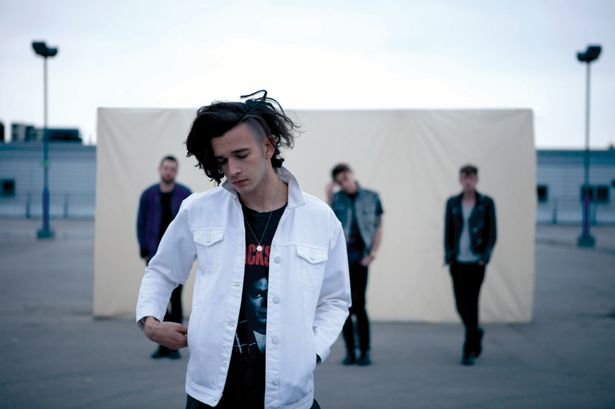 The new song from The 1975 also references the deaths of young rappers Lil Peep and XXXTentacion
July 19, 2018
Normally, summertime is when we're under the heat of the burning sun and are not very apt to perceive anything but light feel-good summer tracks. Instead, over the past couple of months we've been getting one reference-filled hit after another. From Childish Gambino's multi-faceted, thought-provoking 'This Is America' to Ariana Grande's bold, open to interpretation 'God Is a Woman'. And here is a rich-in-reference song from The 1975.
The band's newest track 'Love It If We Made It' debuted today on Zane Lowe's World Record on Apple Music's Beats 1. We saw the lyrics earlier this week in the press kit but with the radio interview the references have been confirmed and commented on by frontman Matt Healy.
The 1975's new track, which sounds more like an uninterrupted stream of consciousness, talks the loss of rappers Lil Peep and XXXTentacion due to drug addiction:
Rest in peace Lil Peep
The poetry is in the streets
Jesus saves us!
Modernity has failed us.
Read: Frontman of punk band interrogated for six hours and deported from US for mocking Trump
"I'm saying rest in peace Lil Peep," the singer comments. "He is very on the nose, regardless of what you think of them as artists or people. With XXX and with Lil Peep—the thing that was happening in that movement regardless of what you think of it musically—I felt like it was the closest thing that this generation has to a kind of punk. It definitely felt important, whatever it is. And those two people are dead now just like that."
And references don't end there. 'Love It If We Made It' also involves the personas of Kanye West and Donald Trump. The lyrics read:
Excited to be indicted
Unrequited house with seven pools
Thank you Kanye, very cool!
The last line is a direct quote from a Trump's tweet in response to Kanye's controversial Trump-friendly posts. Check out the original quote:
Thank you Kanye, very cool! https://t.co/vRIC87M21X

— Donald J. Trump (@realDonaldTrump) April 25, 2018

The interviewer couldn't omit this mention and here's what The 1975 vocalist said: "Yeah I mean that's kind of funny I'm always going to use the humor as a way to try and kind of put the message across…". Still, Healy insists the track is not focused on politics:
"It's not about being political, or making people believe what I believe," Healy explains. "But if I'm going to make observations about the world—the world is a very scary, daunting place, but look at things happening. And I think that you need to be brave because if you're going to say things you're always going to upset people. It's very objective though, this song."
'Love It If We Made It' is the second single on the band's record A Brief Inquiry Into Online Relationships – the first of two new albums The 1975 have recently announced. The release is due in October.
Listen to the full Zane Lowe's interview with Healy below. Do you like what we're doing? If so, help us grow by sharing the article – this way we can keep providing you latest news and fun interviews with your favorite bands! Stay tuned with AlteRock Facebook and Twitter to never miss on the news about your favorite alternative music!
https://youtu.be/j5l6ZoVY2zQ